RICHARD CHAMBERLAIN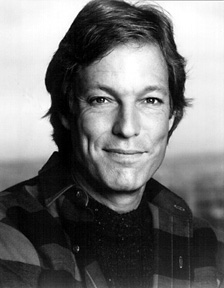 Born George Richard Chamberlain March 31, 1934 (1934-03-31) (age 75) Beverly Hills, California, U.S.
Occupation Actor
Years active 1960–2007
Domestic partner(s) Martin Rabbett (1970s-present)
Richard Chamberlain (born March 31, 1934) is an American actor of stage and screen who became a teen idol in the title role of the television show Dr. Kildare (1961-1966).
Biography
Early life
Chamberlain was born George Richard Chamberlain in Beverly Hills, California, the son of Elsa W. (née Matthews) and Charles Chamberlain, who was a salesman. Chamberlain's father was well known within Alcoholics Anonymous, having traveled for years speaking at A.A. conventions. In 1952 Richard Chamberlain graduated from Beverly Hills High School and later attended Pomona College.
Career
Coinciding with his rise to fame on Dr. Kildare, Chamberlain also had a brief but moderately successful career as a pop singer. He subsequently became disenchanted with Hollywood and turned to the theater, finding success in England among British audiences. In 1966, Chamberlain was cast opposite Mary Tyler Moore in the ill-fated Broadway musical Breakfast at Tiffany's which, after a torturous out-of-town tryout period, closed after only four previews. Decades later he returned to Broadway in revivals of My Fair Lady and The Sound of Music.
In the first half of the 1970s, Chamberlain enjoyed some success as a leading man in films such as The Towering Inferno, The Last Wave, The Three Musketeers and sequels and The Count of Monte Cristo. In The Slipper and the Rose, a musical version of the Cinderella story, co-starring Gemma Craven, he displayed his vocal talents, which had already resulted in a hit single during his days as Dr. Kildare.
Richard Chamberlain in Shōgun (1980) with co-star Yoko Shimada.Chamberlain later appeared in several popular television miniseries (earning him the sobriquet of "King of the Miniseries"), including Centennial, William Bast's The Man in the Iron Mask, Shogun, and The Thorn Birds playing Father Ralph de Bricassart opposite Rachel Ward. In the late 1980s he experienced a belated breakthrough as a leading man with King Solomon's Mines opposite newcomer Sharon Stone, and also played Jason Bourne in the original 1988 version of The Bourne Identity.
Since the 1990s, Chamberlain has mostly appeared in television movies and as a guest star on series including The Drew Carey Show and Will & Grace. In the fall of 2005, Chamberlain appeared in the title role of Ebenezer Scrooge in the Broadway National Tour of Scrooge: The Musical. In 2006, Chamberlain guest starred in an episode of the hit BBC drama series Hustle as well as season 4 on Nip/Tuck.
In 2007, Chamberlain guest starred in episode 80 (Season 4, Episode 8, "Distant Past") of Desperate Housewives as Glen Wingfield, Lynette Scavo's stepfather. His character is learned to be gay (Chamberlain himself is homosexual).
In 2008 and 2009 he appeared as King Arthur in the national tour of Monty Python's Spamalot.
Personal life
Chamberlain resides in Hawaii, with his partner since the mid-1970s, agent-producer-director Martin Rabbett. Rabbett and Chamberlain starred together in Allan Quatermain and the Lost City of Gold in which they played brothers Allan and Robeson Quatermain.
Although it was generally known that Chamberlain was homosexual, having been outed by the French women's magazine Nous Deux in December 1989, it was not until 2003, at age 69, that he came out as such in his biography, Shattered Love (ISBN 0060087439), which describes how he felt obliged to hide his sexuality in order to have an acting career.
Admin




Mesaj Sayısı

: 5192


Kayıt tarihi

: 27/01/08




---
Bu forumun müsaadesi var:
Bu forumdaki mesajlara cevap
veremezsiniz