A Bridge Too Far
A bridge too far is a 1977 epic war film based on the 1974 book of the same name by Cornelius Ryan, adapted by William Goldman. It was produced by Joseph E. Levine and Richard P. Levine and directed by Richard Attenborough.
The film tells the story of Operation Market-Garden, and its ultimate failure, the Allied attempt to break through German lines and seize several bridges, with the main objective the bridge over the Lower Rhine (Neder Rijn) River, in the occupied Netherlands during World War II. The name for the film comes from a comment made by British Lieutenant-General Frederick A.M. Browning, deputy commander of the First Allied Airborne Army, who told Field Marshal Bernard Montgomery, the operation's architect, before the operation, "I think we may be going a bridge too far."
The ensemble cast includes Dirk Bogarde, James Caan, Michael Caine, Sean Connery, Denholm Elliott, Elliott Gould, Edward Fox, Gene Hackman, Anthony Hopkins, Jeremy Kemp, Laurence Olivier, Robert Redford, Liv Ullmann, Maximilian Schell, Hardy Krüger and Ryan O'Neal. The music for the film was scored by John Addison, who was a soldier with the British XXX Corps during Operation Market Garden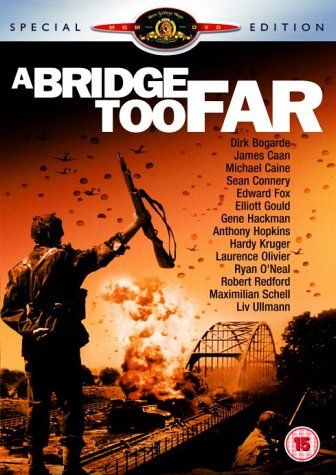 En son Admin tarafından Paz Haz. 28, 2009 3:27 am tarihinde değiştirildi, toplamda 2 kere değiştirildi
"Batı Cephesinde Yeni Bir Şey Yok" (Orjinal adı: Im Westen nichts Neues) Erich Maria Remarque'nın yazdığı, savaşın korkunçluğunu ve anlamsızlığını ele alan bir romandır. Im Westen nichts Neues romanı ilk kez Almanya'da 1929 yılının Ocak ayında yayımlandı ve daha ilk yılında 26 dile tercüme edilerek dünyaca meşhur oldu. Günümüze kadar 50 ayrı dile tercüme edilmiş ve 15-20 milyon satmıştır. Almanya'nın Nazi döneminde 1933 yılında gerçeklesen "Kitap yakılması" eylemlerinde bu roman da kurban düşmüştür. Roman, I. Dünya Savaşı'na, bağnaz öğretmenlerinin kışkırtığı vatanseverlik duygularıyla gönüllü olarak katılan Alman gençlerinin, savaşın gerçekliği altında nasıl ezildiklerini son derece çarpıcı bir biçimde okuyucuya sunmaktadır. Remarque'ın bu romanın kahramanı, yaşama bağlılığını, yaşama sevincini öylesine yitirmiştir ki, bu yaşam dolu genç adam, önünde uzanan upuzun bir yaşama bakıp, "Varsın aylar, yıllar geçsin. Nasılsa bana getirecekleri birşeyleri kalmadı" diyebilmektedir sonunda. Remarque, savaşlara katılan insanların bir kısmının bedenen öldüklerini, geri kalanların ise ruhen öldüklerini savunmaktadır bu romanında. Ona göre sonuçta, savaşlara katılan herkes ölür, bedenen ya da ruhen, kimse savaştan sağ çıkamaz. Remarque'ye göre savaşın gerçeği işte budur.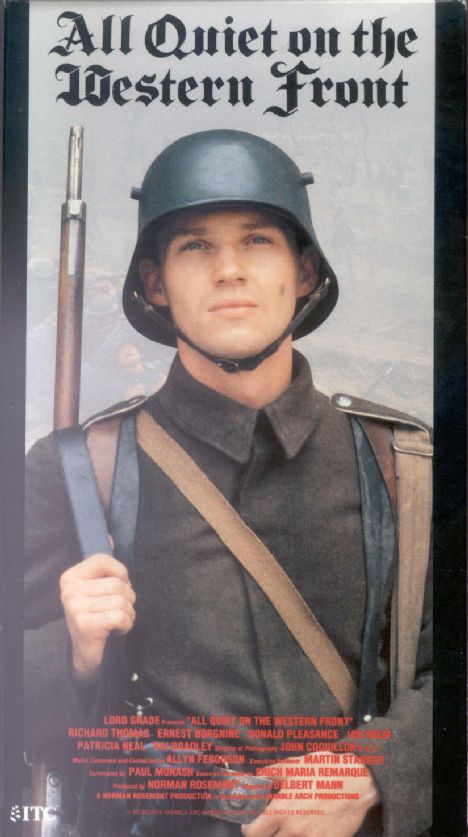 Battle of the Bulge is a war film released in 1965. It was directed by Ken Annakin. It starred Henry Fonda, Robert Shaw, Telly Savalas, Robert Ryan, Dana Andrews and Charles Bronson.
Battle of the Bulge had its world premiere on 16 December 1965, the 21st anniversary of the battle, at the Pacific Cinerama Dome Theater in Hollywood, California. The feature was filmed in Ultra Panavision 70 and exhibited in 70 mm Cinerama.
The original VHS release of the film for home video use was heavily edited and used a full screen "pan and scan" technique often employed in network telecasts of widescreen motion pictures. The DVD (released in 2005), however, is uncut and uses a "letterbox" format that includes the proper aspect ratio of the original film; it also includes some special features.
Plot summary
A German tank force led by a fictional Colonel Hessler (played by Robert Shaw) leads a last-ditch attack through the Allied front. An American intelligence officer (played by Henry Fonda) tries in vain to persuade his superiors of enemy intentions, but to no avail. Hessler is initially successful, but his luck runs out when his unit attempts the seizure of a stubbornly-held fuel depot. Vignettes from the actual battle are included the film, including General McAuliffe's reply of "Nuts" to a surrender demand at Bastogne, German commandos dressed as American soldiers (Operation Greif), and the Malmedy massacre of American POWs.
Cast
Henry Fonda as Lt. Col. Kiley
Robert Shaw as Col. Hessler
Robert Ryan as Gen. Grey
Dana Andrews as Col. Pritchard
George Montgomery as Sgt. Duquesne
Ty Hardin as Schumacher
Pier Angeli as Louise
Barbara Werle as Elena
Charles Bronson as Wolenski
Hans Christian Blech as Conrad
Werner Peters as Gen. Kohler
James MacArthur as Lt. Weaver
Karl-Otto Alberty as Von Diepel (as Karl Otto Alberty)
Telly Savalas as Sgt. Guffy
Steve Rowland as Eddy
Robert S. Woods as Joe (Kiley's pilot)
Historical accuracy
After some dramatic build-up, the film takes us to the initial assault where Hessler's heavy tanks descend on forward defenses held by U.S. infantry. The G.I.s fire anti-tank grenades from their rifles which explode harmlessly on the thick armor. Hessler's forces quickly penetrate the position, resulting in a panic-stricken rout.
An American tank arrives only to find shots from its main gun ricochet without effect.
But the Germans have an Achilles' heel. They are desperately short of fuel, to the point where their troops must siphon it from captured and abandoned U.S. vehicles to keep their own moving.
The film also recreates the massacre of American prisoners at Malmedy and the stiffening effect it had on morale. Consequently, resistance grows as U.S. troops no longer view surrender as an option. The German advance slows.
Although advised to bypass the strongpoint of Amblève (currently known as Amel), Shaw (Hessler) convinces his commander to attack and eliminate it. He is successful, but more time has been lost. American armored reserves are now moving up in force.
The final tank battle is a rough depiction of the Battle of Celles on December 26, 1944 where the U.S. 2nd Armored Division smashed the German 2nd panzer. The film creates the false impression that large numbers of American tanks sacrificed themselves against the heavy Tiger IIs and in the process lured the enemy off course which caused him to run out of gas. In reality, they were already stranded. Furthermore, most German tanks were not heavy types.
In fairness to the film, the inaccuracy here is not fatal. Fuel shortage was a major handicap for the Germans. And there was a major tank-to-tank engagement during the battle.
Absent from this movie is the response by General George Patton whose Third Army relieved the siege of Bastogne. However, the movie chose to emphasize the more important theme of how Bastogne slowed the German attack in the beginning. There is no reference to British forces in the area which were strategically important. But outside of one brigade (29th Armored), the British did not engage in actual combat. When the weather cleared, U.S. airpower exerted an overpowering effect. However, by the time this occurred, the Germans had been stopped.
In summary, while "Battle of the Bulge" is something of a caricature of the real history, it nonetheless captures the key events: the initial surprise and chaos, the German fuel shortage, and the Malmedy massacre and its effect on American resolve.
There is some speculation that the fictional German character, Hessler, was modeled after Colonel Joachim Peiper whose unit carried out the Malmedy massacre. However, this is not evident in the film where Hessler is openly critical of the Malmedy incident, pointing out such things turn a defeated rabble into an avenging army.
http://en.wikipedia.org/wiki/Battleground_(film)
Battleground is a 1949 war film that tells the story of the 2nd Squad, 3rd Platoon of Item Company, 327th Glider Infantry Regiment, 101st Airborne Division, trying to cope with the Siege of Bastogne during the Battle of the Bulge in World War II. It stars Van Johnson, John Hodiak, Ricardo Montalban and George Murphy, and features James Whitmore. It was directed by William Wellman from a script by Robert Pirosh.
The film is notable for portraying American soldiers as vulnerable and human, as opposed to just inspirational and gung-ho. While there is no question concerning their courage and steadfastness, each soldier has at least one moment in the film when he seriously considers running away, schemes to get sent away from the front line, goofs off, or vocally complains about being in the situation he is in. In spite of all their fears and misery, though, they stay at their posts when the battle is at its worst, and exhibit great pride in their unit and in themselves. Battleground is considered to be the first significant film about World War II to be made and released after the end of the war.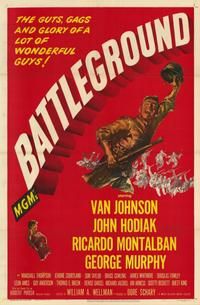 Casualties of War
Cast and ratings
Michael J. Fox as Pfc. Max Eriksson
Sean Penn as Sgt. Tony Meserve
Don Harvey as Cpl. Thomas E. Clarke
John C. Reilly as Pfc. Herbert Hatcher
John Leguizamo as Pfc. Antonio Diaz
Thuy Thu Le as Thị Oanh Thân / Girl on train
Erik King as Cpl. "Brownie" Brown
Jack Gwaltney as Pfc. Rowan
Ving Rhames as Lt. Reilly
Dan Martin as Hawthorne
Dale Dye as Capt. Hill
Theatrical Poster
Directed by Brian De Palma
Produced by Art Linson
Written by Story:
Daniel Lang
Screenplay:
David Rabe
Starring Michael J. Fox
Sean Penn
Music by Ennio Morricone
Cinematography Stephen H. Burum
Editing by Bill Pankow
Distributed by Columbia Pictures
Release date(s) August 18, 1989
Running time 113 minutes
Country United States
Language English
Budget $22,500,000
Gross revenue $18,671,317
Casualties of War is a 1989 war drama about the Vietnam War, starring Michael J. Fox and Sean Penn. It was directed by Brian De Palma, with a screenplay by David Rabe based on actual events that took place in 1966. An article written by Daniel Lang for The New Yorker in 1969 was the movie's primary source.
This film was Fox's third major dramatic role. He had previously starred in the dramas Light of Day and Bright Lights, Big City. John C. Reilly and John Leguizamo make their screen debuts in the film.
Taglines:
Even if these four guys get convicted they won't do any real time.
Even in war... murder is murder.
Plot
The story is presented as a flashback of Private First Class Max Eriksson (Michael J. Fox), a Vietnam veteran.
In November 1966, a squad of American soldiers is on patrol when they are suddenly attacked by the Viet Cong. The ground cracks under Eriksson while he walks above a Viet Cong tunnel, and he is stuck in the hole while mortar shells land near him. Unknown to him, a Viet Cong soldier in the tunnel below him prepares to silently kill him. Sergeant Tony Meserve (Sean Penn) hears Eriksson, pulls him out of the hole, and kills the Viet Cong soldier. Eventually, the Americans manage to stave off the attack.
The squad takes a well-earned break outside a river village in the Central Highlands. While relaxing and joking around, one of the squad members, Corporal "Brownie" Brown (Erik King) is shot in the neck by Viet Cong across the river. The squad kills several enemies until they realize there's Viet Cong running through a flooded field behind them. One throws a grenade at Eriksson, but in a miraculous shot he blows up the grenade in mid air with his M-79 grenade launcher. Brownie is evacuated but dies at the hospital. Shortly afterward, Private Antonio Diaz (John Leguizamo) arrives as Brownie's replacement.
The unit is then re-deployed to a nearby village, which is believed to be an ally to the Viet Cong. Because of their reassignment, the unit has their leave time cut short. Frustrated because his squad has been denied leave for an extended period, Meserve orders the squad to kidnap a Vietnamese girl, Than Thi Oanh (Thuy Thu Le) to be their sex slave. Eriksson strenuously objects, but his opinions put him on the bad side of Meserve who is antagonistic towards Eriksson because of his qualms of conscience. The girl is forcibly taken to the squad's next command outpost and is repeatedly beaten and raped by all the men except for Eriksson, who is ostracized. Oanh grows ill and develops a persistent cough.
The squad is later ordered to take up a position near a railroad bridge overlooking a Viet Cong river supply depot. Meserve and Corporal Thomas E. Clarke realize Oanh's coughing might give them away. Meserve has Diaz order air support for an assault on the depot. Then he orders Eriksson to kill Oanh. Eriksson staunchly refuses despite Meserve's death threats. To his horror, Corporal Clarke looks out in the sky and sees a unit of Huey helicopters passing a mountain and then turning towards their position. Fearing the helicopters will somehow see their rape victim, Meserve first orders PFC. Herbert Hatcher to kill Oanh, but he refuses, so then Meserve orders Diaz. Before Diaz can kill her, Eriksson fires his M-16 rifle into the air, exposing them to the nearby Viet Cong.
As the battle rages, Eriksson, who is carefully picking off Viet Cong hiding behind a supply sampan on the river bank, doesn't realize that Clarke has stabbed Oanh more than twice with his knife. Things become desperate when the Viet Cong move mortars up to the river and begin lobbing shells onto the bridge trapping the squad. Fortunately, Meserve is able to kill many of the enemy with his M-60 machine gun. But the situation gets worse when Oanh, whose wounds were not immediately fatal, walks onto the bridge to try to escape. Eriksson tries to catch her but is hit in the stomach by Meserve using the butt of his M-60. Completely winded and hurt, Eriksson watches helplessly as the squad shoots Oahn numerous times until she falls off the bridge, dead at last. The helicopter gunships then strafe the supply depot with rockets blowing it up but accidentally setting a passing U.S. Navy Patrol Boat on fire when the sampan explodes, killing all the crewmen.
After the battle, Eriksson wakes up in a hospital having been "wounded". Meserve and the squad cover up the murder but Eriksson refuses to let the secret die. He jeopardizes both his life and military career (thanks in large part to indifferent superiors, who prefer to bury the matter) to expose the crime. Eventually, following an attempt on Eriksson's life by Clarke, there is an investigation and the four men who participated in the rape and murder are court martialed and receive long sentences. Meserve received ten years hard labor and a dishonorable discharge. Clarke (Don Harvey) was sentenced to life in prison. Private Herbert Hatcher (John C. Reilly) received 15 years hard labor. Diaz (John Leguizamo) received 8 years hard labor. Hatcher was later retried and acquitted on appeal after it was determined that his Fifth Amendment rights were violated and his confession was ruled as inadmissible.
At the end of the movie, Max wakes up from the nightmare he was having of the entire incident only to find himself on a MUNI Metro streetcar in San Francisco, just a few feet from a Vietnamese-American student (also played by Thuy Thu Le) who resembles the kidnapped girl. She leaves the streetcar to go to school and forgets her scarf, and Max runs after her to return it. They have a brief chat where she notices something is troubling him, and guesses that she reminds him of someone. They go their separate ways as the movie ends.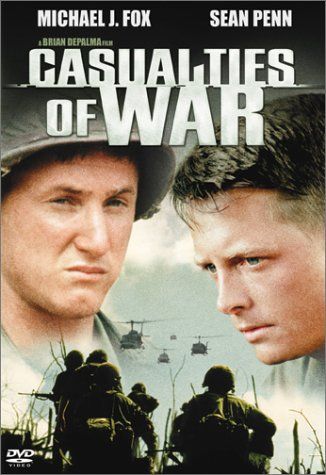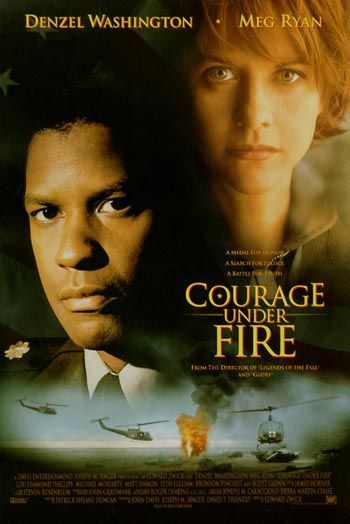 Directed by Edward Zwick
Produced by John Davis
Joseph M. Singer
David T. Friendly
Written by Patrick Sheane Duncan
Starring Denzel Washington
Meg Ryan
Lou Diamond Phillips
Matt Damon
Music by James Horner
Cinematography Roger Deakins
Editing by Steven Rosenblum
Studio Davis Entertainment
Distributed by 20th Century Fox
Release date(s) 12 July 1996
Running time 117 min.
Language English
Çöl Fırtınası harekatında bir kurtarma helikopterinin pilotu olan Yüzbaşı Karen Walden'ın (Meg Ryan) helikopteri düşer ve kendisi helikopter mürettebatının kurtulmasından az önce ölür. İlk bakışta düşen helikopter mürettebatını kurtarmış ve düştükten sonra onların Iraklılarla savaşmasını sağlamış gibi görünmektedir. Amerikan yönetimi ilk kez bir kadına, Karen Walden'a şeref madalyası vermeyi planlamaktadır, ancak önce olayın kesinleşmesi gereklidir. LT Albay Serling'e (Denzel Washington) Çöl Fırtınası'nda kendi dertleri ile uğraşırken bu olaydaki gerçeği araştırması görevi verilir. Mürettebat ve çevredeki askerler kendi içlerinde çelişkili ifadeler vermektedir ve Serling bu madalyanın gerçekten hak edilip edilmediğini bulmakta kararlıdır.
Courage Under Fire is a 1996 film directed by Edward Zwick, and starring Denzel Washington, Meg Ryan, Lou Diamond Phillips and Matt Damon. It is one of the first films to depict the 1991 Gulf War. The film uses the same cinematic concept as the 1950 Japanese film Rashōmon, wherein the truth of an event becomes difficult to verify due to the conflicting accounts of different witnesses. The major difference here is that in Rashomon, the characters believe the stories they tell. In Courage Under Fire, several of the characters deliberately lie to protect themselves.
Plot
Lieutenant Colonel Nathaniel Serling (Denzel Washington) was involved in a friendly fire incident in Al Bathra during the Gulf War. He was an M1 Abrams tank battalion commander who, during the nighttime confusion of Iraqi tanks infiltrating his unit's lines, gave the order to fire, destroying one of his own tanks and killing his friend Captain Boylar. The details were covered up (Boylar's parents are told that their son was killed by enemy fire), and Serling was reassigned to a desk job.
Later, he is assigned to determine if Captain Karen Emma Walden (Meg Ryan) should be the first woman to receive (posthumously) the Medal of Honor for valor in combat in the First Gulf War. A Medevac Huey commander, she was sent to rescue the crew of a helicopter that had been shot down. Finding them under heavy fire from an Iraqi tank and infantry, she had her men drop a fuel bladder on the tank and ignited it with a flare gun. Shortly after, her helicopter was also hit and downed. The two crews were unable to join forces. The survivors were rescued the next day, but Walden had been killed in action.
At first, everything seems to be straightforward, but Serling begins to notice inconsistencies between the testimonies of the witnesses. Walden's co-pilot, Warrant Officer One Rady (Tim Guinee), praises Walden's character and performance, but was hit and unconscious from early on. Serling then sees Walden's medic, Specialist Ilario (Matt Damon), who also praises Walden. However, Staff Sergeant Monfriez (Lou Diamond Phillips) tells Serling that Walden was a coward. Also, the members of the other downed crew mention that they heard the distinctive sound of an M16 being used in the firefight during the rescue around the other helicopter, but Walden's crew denies firing one during the rescue, as theirs was out of ammunition. Serling finally visits Walden's crew chief, Sergeant Altameyer (Seth Gilliam), who is dying in a hospital. He is unable to speak coherently, but manages to get some words out, further confusing Serling.
Under pressure from the White House and his commander, Brigadier General Hershberg (Michael Moriarty), to wrap things up quickly, Serling leaks the story to reporter Tony Gartner (Scott Glenn) to prevent another cover up. When he puts pressure on Monfriez, the man commits suicide by driving his car into an oncoming train rather than face a court-martial.
After finding Ilario, Serling discovers that Monfriez wanted to escape under cover of darkness, which would have meant leaving Rady behind. The rest of the crew was ready to follow his lead, but Walden refused to go along, resulting in an armed standoff with Monfriez. When an Iraqi infantryman appeared behind Monfriez, Walden fired at him. Mistakenly believing he was the target, Monfriez shot back and seriously wounded her. However, Walden regained control of her men.
The next morning, Walden stayed behind to cover their evacuation with the M16. Monfriez deliberately lied to the rescuers, telling them that she was dead so she would be left behind. Ilario remained silent. Altameyer, injured and unable to say anything but "no!", was ignored. A-10s then napalmed the wreckage.
Walden's young daughter receives the Medal of Honor in a White House ceremony. Later, Serling tearfully tells the Boylars the truth about the manner of their son's death. He salutes at Walden's grave. In the last moments of the film, it is shown that Walden had transported Boylar's body away from the battlefield.
Cast
Denzel Washington as Lieutenant Colonel Nathaniel Serling
Meg Ryan as Captain Karen Emma Walden
Lou Diamond Phillips as Staff Sergeant John Monfriez
Michael Moriarty as Brigadier General Hershberg
Matt Damon as Specialist Ilario
Bronson Pinchot as Bruno, a White House aide
Seth Gilliam as Sergeant Steven Altameyer
Regina Taylor as Meredith Serling
Zeljko Ivanek as Ben Banacek
Scott Glenn as Tony Gartner, a Washington Post reporter
Tim Guinee as Warrant Officer One Rady
Tim Ransom as Captain Boylar
Sean Astin as Sergeant Patella
Ned Vaughn as First Lieutenant Chelli
Sean Patrick Thomas as Sergeant Thompson
Manny Perez as Jenkins
Ken Jenkins as Joel Walden
Kathleen Widdoes as Geraldine Walden
Christina Stojanovich as Anne Marie Walden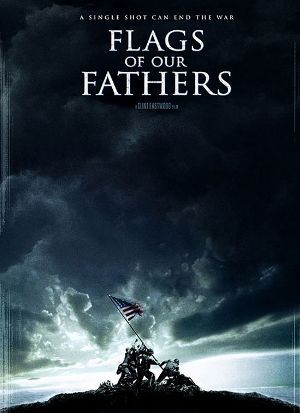 Directed by Clint Eastwood
Produced by Clint Eastwood
Steven Spielberg
Robert Lorenz
Written by Book:
James Bradley
Screenplay:
William Broyles, Jr.
Paul Haggis
Starring Ryan Phillippe
Adam Beach
Jesse Bradford
Neal McDonough
Barry Pepper
Robert Patrick
Paul Walker
Jamie Bell
John Benjamin Hickey
John Slattery
Music by Clint Eastwood
Cinematography Tom Stern
Editing by Joel Cox
Studio Malpaso Productions
Amblin Entertainment
Distributed by USA:
DreamWorks
Paramount
non-USA:
Warner Bros.
Release date(s) October 20, 2006 (USA)
Running time 127 minutes
Country United States
Language English
Budget $90,000,000 ([1])
Gross revenue $65,900,249 (worldwide)
Followed by Letters from Iwo Jima
Tür : Savaş / Dram / Aksiyon / Tarihi
Gösterim Tarihi : 8 Aralık 2006
Yönetmen : Clint Eastwood
Senaryo : William Broyles Jr. , Paul Haggis , James Bradley (Kitap) , Ron Powers (Kitap)
Görüntü Yönetmeni : Tom Stern
Müzik : Clint Eastwood , Lennie Niehaus
Yapım : 2006, ABD
Oyuncular
Ryan Phillippe (John Bradley) , Jesse Bradford (Rene Gagnon) , Barry Pepper (Sgt. Mike Strank) , Paul Walker (Hank Hansen) , Adam Beach (Ira Hayes) , Benjamin Walker (Harlon Block)
İkinci Dünya Savaşı'nın son dönemleri... Amerikan askerleri, Japon'ların kontrolündeki Iwo Jima Adası'nı ele geçirmektedirler. Çok kanlı geçen çıkartmanın ardından, beş Amerikan askeri, adadaki dağın zirvesine çıkarak zafer simgesi olarak Amerikan bayrağını dikerler. Kahraman ilan edilen bu askerlerin savaştan sonra evlerine döndüklerinde yaşadıkları çelişkili durumlar üzerinde duran film, gerçekler ile içi boş kahramanlıkların arasındaki farkı anlatmayı amaçlıyor.
Amerika tarafından ele geçirilen bu adanın daha sonra atılacak atom bombasının kullanılması için de önemli bir stratejik merkez olmuş olduğunu ekleyelim.
Bu savaştan sağ kurtulan askerlerden bir olan James Bradley'in anılarından yola çıkılarak yazılan aynı adlı romandan uyarlanan filmde, Clint Eastwood, amacının bir tarafı tamamen 'iyi' ya da tamamen 'kötü' olarak göstermeden, gerçek kahramanların aslında yitip gidenler olduğunu anlatmaya çalıştığını belirtiyor. Eastwood'un olaya bir de Japonlar açısından bakabilmek için eş zamanlı olarak Letters from Iwo Jima'yı da çektiğini belirtelim.
http://www.ronmaxwell.com/gettysburg.html
Since its theatrical release in the fall of 1993, the movie Gettysburg has become a classic among historians, reenactors, and anyone who appreciates serious film. A sweeping epic that has been called one of the greatest war movies of all time, Gettysburg invites the viewer to experience the Civil War's pivotal three day battle on a personal and intimate level. Earning fans and accolades from around the country and the world, Gettysburg has gained a highly respected place in the pantheon of American film. See reviews of Gettysburg
Fans of Gettysburg will be interested in writer-director Ron Maxwell's video about the making of the film. You may also purchase a copy of the screenplay and storyboards.
Amerikan İç Savaşında savaşan Robert G. Shaw'un yazdığı mektuplardan senaryolaştırılan "Glory", bu savaşta kurulan ilk zenci taburun hikayesini anlatıyor. O dönemdeki ırk ayrımını ve önyargılarını savaş kurgusu içinde tatlı bir dille irdeleyen film Denzel Washington'a ilk oscarını kazandırdı.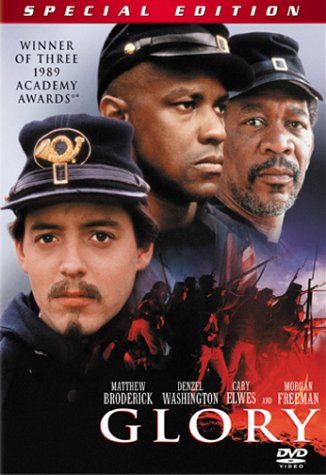 Directed by Edward Zwick
Produced by Freddie Fields
Written by Kevin Jarre
Starring Matthew Broderick
Denzel Washington
Cary Elwes
Morgan Freeman
Andre Braugher
Music by James Horner
Cinematography Freddie Francis
Editing by Steven Rosenblum
Distributed by TriStar Pictures
Release date(s) December 15, 1989
Running time 122 min.
Country United States
Language English
Budget $18,000,000 (est.)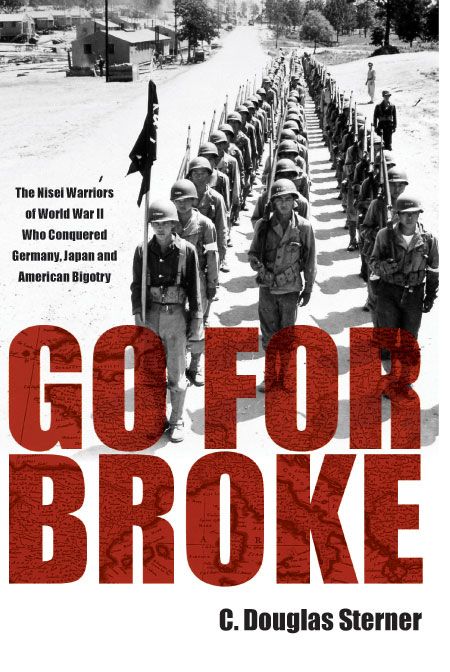 Go for Broke!
Directed by Robert Pirosh
Produced by Dore Schary
Written by Robert Pirosh
Starring Van Johnson
Lane Nakano
George Miki
Release date(s) 1951
Running time 92 minutes
Country United States
Language English
Go for Broke! is a war film released in 1951. It was directed by Robert Pirosh, produced by Dore Schary and starred Van Johnson, several veterans of the 442nd Regimental Combat Team, and Henry Nakamura.
The film dramatizes the real-life story of the 442nd, which was composed of Nisei (second-generation Americans born of Japanese parents). Fighting in the European theater during World War II, this unit became the most heavily decorated unit for its size and length of service in the history of the United States Army, as well as one of the units with the highest casualty rates. This film is a Hollywood rarity which features Asian-Americans in a positive light and even more rare in highlighting the irony of Japanese-Americans who fought bravely for their country while that same country interned their families in camps.
As with his earlier film script Battleground, in which Van Johnson also starred, writer-director Robert Pirosh focuses on the average squad member, mixing humor with pathos, while accurately detailing equipment and tactics used by American infantry in World War II. The contrast of reality versus public relations, the hardships of field life on the line, and the reality of high casualty rates are accurately portrayed with a minimum of heroics.

---
Bu forumun müsaadesi var:
Bu forumdaki mesajlara cevap
veremezsiniz