KARL MALDEN
Karl Malden, 22 Mart 1912 doğumlu Sırp asıllı ABDli sinema oyuncusu. Asıl adı Mladen George Sekulovich'tir. İhtiras Tramvayı, Rıhtımlar Üzerinde, One-Eyed Jacks gibi sinema klasiklerinde rol aldı. 1 temmuz 2009 tarihinde 97 yaşında hayatını kaybetti.
http://www.karlmalden.com/
http://www.imdb.com/name/nm0001500/
http://www.ibdb.com/person.php?id=51153
http://www.legacy.com/Obituaries.asp?page=lifestory&personid=129192796
http://www.telegraph.co.uk/news/obituaries/culture-obituaries/film-obituaries/5714143/Karl-Malden.html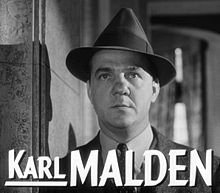 From the trailer for Alfred Hitchcock's I Confess (1953)
Born Mladen George Sekulovich
March 22, 1912(1912-03-22)
Chicago, Illinois, U.S.
Died July 1, 2009 (aged 97)
Brentwood, Los Angeles, California, U.S.
Occupation Actor
Years active 1940 – 2000
Spouse(s) Mona Greenberg (1938 – 2009)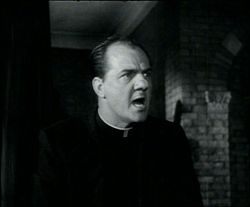 Karl Malden as Father Barry in the trailer for On the Waterfront (1954)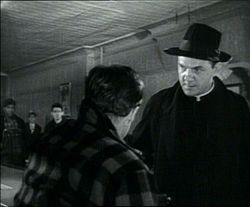 Karl Malden with Marlon Brando in the trailer for On the Waterfront (1954)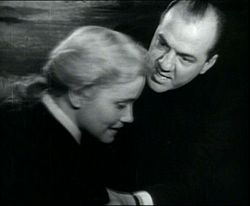 Karl Malden with Eva Marie Saint in the trailer for On the Waterfront (1954)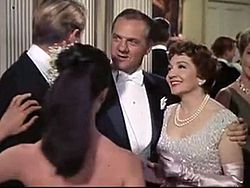 Karl Malden with Claudette Colbert in the trailer for Parrish (1961)
Early life
This section does not cite any references or sources. Please help improve this article by adding citations to reliable sources. Unsourced material may be challenged and removed. (September 2008)
Malden, the eldest of three brothers, was born Mladen George Sekulovich (from Mladen Đorđe Sekulović, Serbian Cyrillic: Младен Ђорђе Секуловић) in Chicago, Illinois. His mother, Minnie (née Sebera) Sekulovich (1892 - 1996), was a Czech seamstress and actress, and his father, Petar Sekulovich (1880 - 1976), worked in the steel mills and as a milkman. The Sekulovich family roots trace back to the city of Danilovgrad in Montenegro. Malden spoke Serbian language until he was in kindergarten. Malden's father had a passion for music, and organized a choir. As a teenager, Malden joined the Karageorge Choir. In addition, his father produced Serbian plays at his church and taught acting. A young Malden took part in many of these plays, which included a version of Jack and the Beanstalk, but mostly centered on the community's Yugoslav heritage. In high school he was a popular student and the star of the basketball team (according to his autobiography, Malden broke his nose twice while playing, taking elbows to the face and resulting in his trademark bulbous nose). He participated in the drama department, and was narrowly elected senior class president. Among other roles, he played Pooh Bah in The Mikado. After graduating from Emerson High School in 1931 with high marks, he briefly planned to leave Gary for Arkansas, where he hoped to win an athletic scholarship, but college officials did not admit him owing to his refusal to play any sport beside basketball. From 1931 until 1934, he worked in the steel mills, as had his father.
He changed his name from Mladen Sekulovich to Karl Malden at age 22. He anglicized his first name by switching the letters and made it his last name and then took his uncle's first name. This was because the first theatre company he was in wanted him to shorten his name for the marquee. He thought they wanted to fire him and were using his name as an excuse, although this was not the case, so he changed it not to give them the excuse.
Malden often found ways to say "Sekulovich" in films and television shows in which he appears. For example, as General Omar Bradley in Patton, as his troops slog their way through enemy fire in Sicily, Malden says "Hand me that helmet, Sekulovich" to another soldier. In Dead Ringer, as a police detective in the squad room, Malden tells another detective: "Sekulovich, gimme my hat." In Fear Strikes Out, Malden, playing Jimmy Piersall's father John, introduces Jimmy to a baseball scout named Sekulovich. In Birdman of Alcatraz, as a prison warden touring the cell block, Malden recites a list of inmates' names, including Sekulovich. Malden's father was not pleased, as he told his son 'Mladen, no Sekulovich has ever been in prison!' Perhaps the most notable usage of his real name was in the TV series The Streets of San Francisco. Malden's character in the program, Mike Stone, employed a legman (played by Art Metrano) with that name, who did various errands. Also, in On the Waterfront, in which Malden plays the priest, among the names of the officers of Local 374 called out in the courtroom scene is Mladen Sekulovich, Delegate.
Education and early stage work
In September 1934, Malden decided to leave his home in Gary, Indiana, to pursue formal dramatic training at the Goodman School (later part of DePaul University), then associated with the Goodman Theater in Chicago. Although he had worked in the steel mills in Gary for three years, he had helped support his family, and was thus unable to save enough money to pay for his schooling. Making a deal with the director of the program, he gave the institute the little money that he did have, with the director agreeing that, if Malden did well, he would be rewarded with a full scholarship. He won the scholarship. When Malden performed in the Goodman's children's theater, he wooed the actress Mona Greenberg (stage name: Mona Graham), who married him in 1938. He graduated from the Chicago Art Institute in 1937. Soon after, without work and without money, Malden returned to his hometown.
Career
Acting career: circa World War II
Karl Malden as Father Barry in the trailer for On the Waterfront (1954)He eventually traveled to New York City, and first appeared as an actor on Broadway in 1937. He did some radio work and in a small role made his film debut in They Knew What They Wanted. He also joined the Group Theatre, where he began acting in many plays and was introduced to a young Elia Kazan, who would later work with him on A Streetcar Named Desire (1951) and On the Waterfront (1954).
His acting career was interrupted by World War II, during which he served as a noncommissioned officer in the 8th Air Force. While in the service, he was given a small role in the U.S. Army Air Forces play and film Winged Victory. After the war ended in 1945, he resumed his acting career, playing yet another small supporting role in the Maxwell Anderson play Truckline Cafe, with a then-unknown Marlon Brando. He was given a co-starring role in the Arthur Miller play All My Sons with the help of director Elia Kazan. With that success, he then crossed over into steady film work.
Film career: 1950s to 1970s
Malden resumed his film acting career in the 1950s, starting with The Gunfighter (1950) and Halls of Montezuma (1950). The following year, he was in A Streetcar Named Desire (1951), playing Mitch, Stanley Kowalski's best friend who starts a romance with Blanche DuBois (Vivien Leigh). For this role, he won an Academy Award for Best Supporting Actor.
Other films during this period included On the Waterfront (1954), where he played a priest who influenced Terry Malloy (Marlon Brando) to testify against mobster-union boss Johnny Friendly (Lee J. Cobb). In Baby Doll (1956), he played a power-hungry sexual man who had been frustrated by a teenage wife. He starred in dozens of films from the late 1950s to the early 1970s, such as Fear Strikes Out (1957), Pollyanna (1960), Birdman of Alcatraz (1962), Gypsy (1962), How the West Was Won (1962), The Cincinnati Kid (1965), and Patton (1970), playing General Omar Bradley. After Summertime Killer (1972), he appeared in the made-for-television film The Hijacking of the Achille Lauro (1989) (as Leon Klinghoffer).
Television work
The Streets of San Francisco
Main article: The Streets of San Francisco
In 1972, Malden was approached by producer Quinn Martin about starring as Lt. Mike Stone in The Streets of San Francisco. Although the concept originated as a made-for-television movie, ABC quickly signed on to carry it as a series. Martin hired Michael Douglas to play Lt. Stone's young partner, Inspector Steve Keller.
Malden's father was delighted about this series being in San Francisco, as he had intended to settle in that city, but had to change his plans as he'd arrived on the day of the 1906 San Francisco earthquake.
On Streets, Malden played a widowed veteran cop with more than 20 years of experience who is paired with a young officer recently graduated from college. During its first season, it was a ratings winner among many other 1970s crime dramas, and served as ABC's answer to such shows as Hawaii Five-O, Adam-12, Ironside, Barnaby Jones, Kojak, McMillan and Wife, Police Woman, The Rockford Files, and Switch.
During the second season, production shifted from Los Angeles to San Francisco. For his work as Lt. Stone, Malden was nominated for a Primetime Emmy Award for Outstanding Lead Actor - Drama Series four times between 1974 and 1977, but never won. After two episodes in the fifth season, Douglas left the show to act in movies; Douglas had also produced the film One Flew Over the Cuckoo's Nest in 1975. Lt. Stone's new partner was Inspector Dan Robbins, played by Richard Hatch. The show took a ratings nosedive, and ABC canceled it after five seasons and 119 episodes.
Skag
Main article: Skag
In 1980, Malden starred in Skag, an hour-long drama that focused on the life of a foreman at a Pittsburgh steel mill. Malden described his character, Pete Skagska, as a simple man trying to keep his family together. The pilot episode for the series had Skag temporarily disabled by a stroke, and explored the effects it had on his family and co-workers. While Skag met with poor ratings, critics praised it, even taking out full page ads to keep it on the air. It was nevertheless canceled after several episodes.
The West Wing
Malden's last role in film or television was in 2001 in the highly acclaimed first season episode of the The West Wing etitled "Take This Sabbath Day". Malden portrayed a Catholic priest and used the same Bible he had used in On the Waterfront.
Other work American Express
Malden famously delivered the line "Don't leave home without it!" in a series of U.S. television commercials for American Express Travelers Cheques in the 1970s and 1980s.
[edit] USPS Committee
Malden was a member of the United States Postal Service's 16-member Citizens' Stamp Advisory Committee, which meets to review recommendations for U.S. commemorative postage stamps.[6]
[edit] Private life
On December 18, 1938, Malden married Mona Greenberg, who survives him. Their marriage was one of the longest in Hollywood's history.[7]
In 1997, Malden published his autobiography, When Do I Start?, written with his daughter Carla.
Death
Malden died at his home in the Brentwood section of Los Angeles on July 1, 2009 at the age of 97. He is said to have died of natural causes. Malden's manager said "It could be many things. I mean, he was 97 years old!" A service will be held for Malden in the next 3–4 weeks. He is said to have been in poor health for several years.
Selected filmography
Karl Malden with Marlon Brando in the trailer for On the Waterfront (1954)
Karl Malden with Eva Marie Saint in the trailer for On the Waterfront (1954)
Karl Malden with Claudette Colbert in the trailer for Parrish (1961)They Knew What They Wanted (1940)
Winged Victory (1944)
13 Rue Madeleine (1947)
Boomerang (1947)
Kiss of Death (1947)
The Gunfighter (1950)
Where the Sidewalk Ends (1950)
Halls of Montezuma (1951)
A Streetcar Named Desire (1951)
The Sellout (1952)
Diplomatic Courier (1952)
Operation Secret (1952)
Ruby Gentry (1952)
I Confess (1953)
Take the High Ground! (1953)
Phantom of the Rue Morgue (1954)
On the Waterfront (1954)
Baby Doll (1956)
Fear Strikes Out (1957)
Bombers B-52 (1957)
Time Limit (1957) (director)
The Hanging Tree (1959) (also co-director)
Pollyanna (1960)
The Great Impostor (1961)
One-Eyed Jacks (1961)
Parrish (1961)
All Fall Down (1962)
Birdman of Alcatraz (1962)
How the West Was Won (1962)
Gypsy (1962)
Come Fly with Me (1963)
Dead Ringer (1964)
Cheyenne Autumn (1964)
The Cincinnati Kid (1965)
Nevada Smith (1966)
Murderers' Row (1966)
Hotel (1967)
The Adventures of Bullwhip Griffin (1967)
Billion Dollar Brain (1967)
Blue (1968)
Hot Millions (1968)
Patton (1970)
The Cat o' Nine Tails (1971)
Wild Rovers (1971)
Summertime Killer (1972)
Beyond the Poseidon Adventure (1979)
Meteor (1979)
Miracle on Ice (1981)
Twilight Time (1982)
The Sting II (1983)
Fatal Vision (1984) (television miniseries)
Dario Argento's World of Horror (1985) (documentary)
Billy Galvin (1986)
Nuts (1987)
Broadway: The Golden Age, by the Legends Who Were There (2003)
[edit] Awards
Malden won the 1951 Academy Award for Best Supporting Actor for A Streetcar Named Desire and was nominated in 1954 for his supporting role in On the Waterfront. Malden was a past president of the Academy of Motion Picture Arts and Sciences. In October 2003, he was named the 40th recipient of the Screen Actors' Guild's Life Achievement Award for career achievement and humanitarian accomplishment.
On November 11, 2004, his ex-Streets of San Francisco co-star Michael Douglas presented Malden with the Monte Cristo Award of the Eugene O'Neill Theater Center in Waterford, Connecticut, for the Lifetime Achievement Award. Among the recipients besides Malden were Jason Robards, Zoe Caldwell, Edward Albee, August Wilson and Brian Dennehy.
On November 12, 2005, the United States House of Representatives authorized the U.S. Postal Service to rename the Los Angeles Barrington Postal Station as the Karl Malden Postal Station in honor of Malden's achievements. The bill, H.R. 3667, was sponsored by Representatives Henry Waxman and Diane Watson.
In May 2001, Malden received an honorary degree, Doctor of Humane Letters, from Valparaiso University.
For his contribution to the motion picture industry, Karl Malden has a star on the Hollywood Walk of Fame at 6231 Hollywood Blvd. In 2005, he was inducted into the Western Performers Hall of Fame at the National Cowboy & Western Heritage Museum in Oklahoma City, Oklahoma

---
Bu forumun müsaadesi var:
Bu forumdaki mesajlara cevap
veremezsiniz