VITTORIO GASSMAN
http://en.wikipedia.org/wiki/Internet_Movie_Database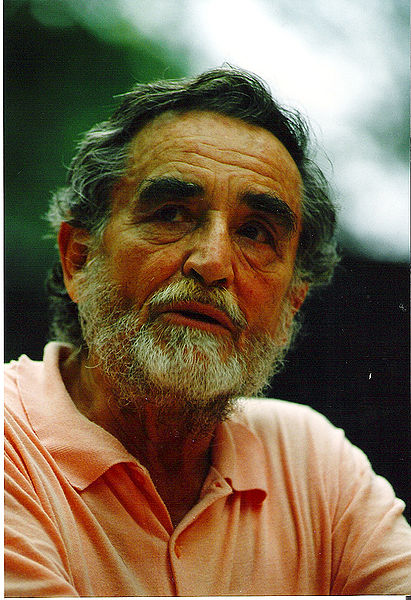 Vittorio Gassman (September 1, 1922 – June 29, 2000), popularly known as Il Mattatore, was an Italian theatre and film actor and director. He is considered one of the greatest Italian actors and is commonly recalled as an extremely professional, versatile, magnetic interpreter, whose long career includes both important productions as well as dozens of divertissements (which made him greatly popular).
Biography
Early life
He was born in Genoa to a father from a wealthy family of German origins and a Pisan mother.
While very young he moved to Rome, where he attended the studies at the Accademia Nazionale d'Arte Drammatica where some of the most important figures of Italian theatre and cinema also studied, such as Paolo Stoppa, Rina Morelli, Adolfo Celi, Luigi Squarzina, Elio Pandolfi, Rossella Falk, Lea Padovani and, later, with Paolo Panelli, Nino Manfredi, Tino Buazzelli, Gianrico Tedeschi, Monica Vitti, Luca Ronconi and many others.
Career
This section contains weasel words, vague phrasing that often accompanies biased or unverifiable information. Such statements should be clarified or removed. (March 2009)
Gassman's debut was in Milan, in 1942, with Alda Borelli in Niccodemi's Nemica (theatre), he then moved to Rome and the Teatro Eliseo joining Tino Carraro and Ernesto Calindri in a team that remained famous; with them he acted in a range of plays from bourgeois comedy to the sophisticated intellectual theatre, with no apparent difficulty in the sudden changes.
In 1946, he made his film debut in Preludio d'amore, the year after he appeared in five films. In 1948 he played in in Riso amaro.
It was with Luchino Visconti's company that Gassman achieved his mature successes, together with Stoppa, Rina Morelli and Paola Borboni. He played a vigorous Kowalski in Tennessee Williams' Un tram che si chiama desiderio, then emphatic in Shakespeare's Rosalinda or in Vittorio Alfieri's Oreste. He then joined the Teatro Nazionale with Tommaso Salvini, Massimo Girotti, Arnoldo Foà, for a successful Peer Gynt (Ibsen).
With Luigi Squarzina in 1952 he co-founded and co-directed the Teatro d'Arte Italiano, producing the first complete version of Hamlet in Italy, then rare works such as Seneca's Thyestes or Aeschylus's The Persians.
In 1956, a key year in his career, Gassman played a memorable Othello with the great actor Salvo Randone, exchanging with him the roles of the Moor and Iago. A little later, in the television series entitled Il Mattatore (spotlight chaser) he obtained unexpected success and Il Mattatore soon became the nickname that accompanied him for the rest of his life. That year Gassman also directed and starred in a movie dedicated to theatre: it was a version of Kean.
Gassman's debut in the commedia all'italiana genre was rather accidental, in Mario Monicelli's I soliti ignoti (Big Deal on Madonna Street, 1958). He was dubious of the results, as he had been so far known only as a dramatic actor, not a comic one. His role was however so successful that subsequently Gassman become considered one of the mainstays of the genre, together with Alberto Sordi, Marcello Mastroianni, Nino Manfredi and Ugo Tognazzi. Famous movies featuring Gassman include: Il sorpasso (1962), La Grande Guerra (1962), I mostri (1963), L'Armata Brancaleone (1966), Profumo di donna (1974) and C'eravamo tanto amati (1974).
A true perfectionist, he always hated imperfect diction, and "dialectal corruptions" (but he was also able to render, perfectly and when needed, most of almost all Italian dialects and inflections). Quite bravely, he accepted the challenge of directing Adelchi, one of the less known and more difficult works by Alessandro Manzoni. He toured his production to half a million spectators, crossing Italy with his Teatro Popolare Itinerante (a newer edition of the famous Carro di Tespi). His productions include most of the famous authors of the 20th century, with repeated returns to the classics of Shakespeare, Dostoevskij and the Greeks. He also founded a theatre school in Florence, which formed many of the more talented actors of the current generations.
In cinema, he worked frequently both in Italy and abroad. With his natural charisma and his fluency in English he scored a number of roles in Hollywood; it was during an early stint there that he met and married Shelley Winters, whom he divorced to return to Italy.
However, according to David Shipman's book The Great Movie Stars: The International Years, Gassman considered his 1950's Hollywood films among the worst he had made in his career.
So, despite his success in films, Gassman never left theatre. In the latter part of his career, he added poetry to his repertoire, helping to bring to Italy foreign works.
Personal life
Gassman married three actresses: Nora Ricci (with whom he had Paola, an actress and wife of Ugo Pagliai); Shelley Winters (mother of his daughter Vittoria); and Diletta D'Andrea who gave him his younger son Jacopo. In addition, he had an affair with actress Juliette Maynel (who gave him Alessandro, also an actor.)
Gassman was a man of intense emotions and intellectual honesty; his notable sense of humour and self-irony led him in the 1990s to take part in the popular TV show Tunnel in which he very formally and "seriously"' recited documents such as utility bills, yellow pages and similar trivial texts, such as washing instructions for a woollen sweater or cookies ingredients. He rendered them with the same professional skill that made him famous while reciting Dante's Divine Comedy.
Gassman was also discussed as a person on account of his private life - his divorces (a noted scandal in Italy during the 1950s and 1960s) and his initial atheism. Also, in his public appearances on TV, he often made original or unconventional comments, sometimes with the clear intention of "shaking things up"; he also gained many enemies in show business for similarly frank judgments .
In his late years he was a victim of depression. He died of a heart attack in his Roman home.
Le pigeon extrait fin Vittorio Gassman Marcello Mastroianni
Admin




Mesaj Sayısı

: 5192


Kayıt tarihi

: 27/01/08



Molière d'honneur pour le magnifique Vittorio Gassman.
1999.

Vittorio Gassman est né à Gênes le 1er septembre 1922. Très tôt, il abandonne ses études de droit et suit les cours de l'Académie d'Art Dramatique de Rome.

C'est avec "Le pigeon" de Mario Monicelli en 1958 qu'il crève enfin l'écran. Un rôle comique qui révèle au public italien une nouvelle facette de son immense talent. Il s'ensuit toute une série de comédies de Dino Risi comme "L'homme aux cent visages", "Les monstres", "Une vie difficile", "La marche sur Rome", "Le fanfaron"...Cependant Vittorio joue également dans des mélodrames, des films d'aventures, des drames...tel que "Anima Nera" de Roberto Rossellini ou "Barabbas" de Richard Fleisher.

Considéré par certains comme le plus brillant des acteurs italiens, il n'est pas un domaine de l'activité littéraire, théâtrale, cinématographique, radiophonique ou télévisée que Vittorio Gassman n'ait touché avec talent. Il retrouve Mario Monicelli en 1970, pour la suite de Brancaleone, "Brancaleone s'en va aux croisades". Ce film ne sortira qu'en 1977 sur les écrans français. En 1973, il abandonne le cinéma pour se consacrer à sa pièce "0 Cesare, 0 Nessuno" pour une tournée dans toute l'Italie. En 1974, il interprète le rôle principal dans le film d'Ettore Scola "Nous nous sommes tant aimés" et surtout "Parfum de femme" de Dino Risi, rôle lequel il obtient le prix de la meilleure interprétation masculine au Festival de Cannes.

C'est avec Catherine Deneuve comme partenaire qu'il tournera pour la treizième fois aves Dino Risi dans "Les âmes perdues".
Vittorio Gassman est décédé à Rome le 29 juin 2000, des suites d'une crise cardiaque.




Admin




Mesaj Sayısı

: 5192


Kayıt tarihi

: 27/01/08




---
Bu forumun müsaadesi var:
Bu forumdaki mesajlara cevap
veremezsiniz