SALLY FIELD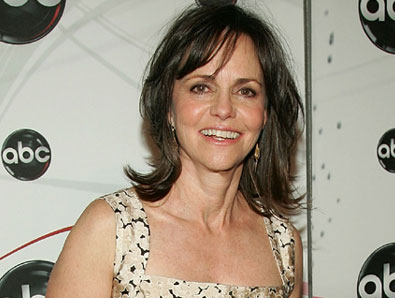 Doğum adı Sally Margaret Field
Doğum 6 Kasım 1946
Pasadena, Kaliforniya, ABD
Akademi Ödülleri
En İyi Aktris
1979 Norma Rae
1984 Places in the Heart
Altın Küre Ödülleri
En İyi Aktris - Drama
1979 Norma Rae
1984 Places in the Heart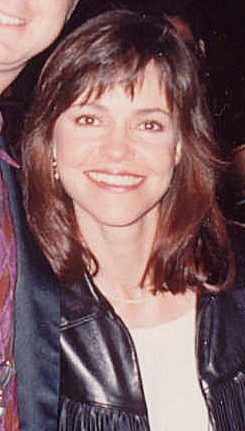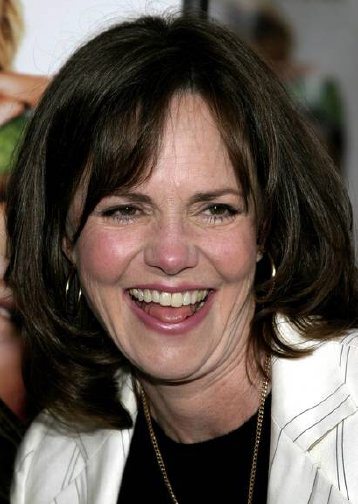 Sally Margaret Field was born in 1946 in Pasadena, California to actress Margaret Field and salesman Richard Dryden Field. Her parents divorced in 1950 and her mother remarried stuntman Jock Mahoney, and they had a daughter, Princess O'Mahoney. She also has a brother, Richard Field. Sally attended Birmingham High School in Van Nuys, California.
Her acting career began in 1965, when she landed the role of Frances Elizabeth 'Gidget' Lawrence in "Gidget" (1965), it was canceled after only one season because of bad ratings. She went on to star in "The Flying Nun" (1967), which ran for three seasons. She also appeared in her first film in 1967, The Way West (1967) opposite Kirk Douglas. In the next few years she appeared in numerous TV-movies and TV-shows such as Maybe I'll Come Home in the Spring (1971) (TV), Marriage: Year One (1971) (TV), "The Girl with Something Extra" (1973), and Sybil (1976) (TV). In 1977 she starred alongside Burt Reynolds in the box office hit Smokey and the Bandit (1977), which led to a less successful sequel in 1980. In 1979 she starred in the popular film Norma Rae (1979) and she received her first Oscar for that role.
In the years that followed she starred in films such as Absence of Malice (1981), Kiss Me Goodbye (1982), Places in the Heart (1984) (she received her second Oscar for her role), Murphy's Romance (1985), Punchline (1988) and Steel Magnolias (1989). In 1993 she starred alongside Robin Williams and Pierce Brosnan in the popular comedy Mrs. Doubtfire (1993). A year after, she played the role of Tom Hanks character's mother (even though she's only ten years older than him in real life) in the successful film Forrest Gump (1994). The film was a huge commercial success and won six academy awards.
Since then she has appeared in Tv-movies and Mini-series such as "A Woman of Independent Means" (1995), Merry Christmas, George Bailey (1997) (TV), "From the Earth to the Moon" (1998) and David Copperfield (2000) (TV). In 2000 she appeared in the film Where the Heart Is (2000) with Natalie Portman and Ashley Judd and in 2003 she starred alongside Reese Witherspoon in Legally Blonde 2: Red, White & Blonde (2003). She also appeared in 12 episodes of "ER" (1994) from 2000-2006. In recent years she has played the role of matriarch Nora Walker in the hit television show "Brothers & Sisters" (2006), which earned her an Emmy Award for Outstanding Lead Actress in a Drama Series in 2007.
Sally has been married twice. First to Steven Craig from 1968 to 1975. They had two sons together, Peter Craig and Eli Craig. Second marriage was to film producer Alan Greisman from 1984 to 1993. They had one son together, Samuel Greisman (born December 2, 1987).
IMDb Mini Biography By: A.G.
Spouse
Alan Greisman (15 December 1984 - 20 December 1993) (divorced) 1 child
Steven Craig (16 September 1968 - 1 August 1975) (divorced) 2 children
Trivia
Good friends with Goldie Hawn and a longtime friend of Pat Mitchell.
Auditioned for the role of Elaine Robinson in The Graduate (1967).
Has two sons from her first marriage: novelist Peter Craig (born November 10, 1969) and actor/director Eli Craig (born May 25, 1972) and one son, Samuel Greisman (born December 2, 1987), from her second marriage.
Daughter of actress Margaret Field. Ex-stepdaughter of actor Jock Mahoney.
Born to Richard Dryden Field, a US Army Captain, and his wife Margaret Field, a contract player with Paramount Pictures starring in B movies. The couple divorced in 1950.
Parents divorced when she was 5.
In 1998, became a grandmother of Isabel Craig; in 2001, Sophie Craig; and in 2006, Noah Craig.
Dated Burt Reynolds for many years, but refused his numerous proposals, and they eventually broke up.
Was asked to play the lead in Moonstruck (1987).
Mentioned in the theme song of the 1980s TV hit "The Fall Guy" (1981).
Measurements: 33-23-34 (Source: Celebrity Sleuth magazine)
Protested alongside fellow actresses Jane Fonda, Christine Lahti, and playwright Eve Ensler urging the Mexican government to re-investigate the slaying of hundreds of women in Ciudad Juarez, on the Mexico-Texas border. (February 2004).
Graduate of Birmingham High School, Van Nuys, California, Class of 1964 with Michael Ovitz, who later became her agent. Field's class voted her "Class Clown". Another fellow student was Cindy Williams.
Her Oscar-winning performance as Norma Rae Webster in Norma Rae (1979) was ranked #15 on the American Film Institute's Heroes list in their compilation of the 100 years of The Greatest Screen Heroes and Villians.
Favorite movie is Smokey and the Bandit (1977).
Turned down the lead role of Alice in Friday the 13th (1980/I).
Member of the jury at the Cannes Film Festival in 1989
Half-sister of Princess O'Mahoney.
While filming the scene in Norma Rae (1979) where she is dragged out to the police car, she struggled and kicked so hard that she broke the rib of one of the men playing a police officer.
Her performance as Norma Rae Webster in Norma Rae (1979) is ranked #73 on Premiere Magazine's 100 Greatest Movie Characters of All Time.
Has three films on the American Film Institute's 100 Most Inspiring Movies of All Time. They are: Places in the Heart (1984) at #95, Forrest Gump (1994) at #37, and Norma Rae (1979) at #16.
In Punchline (1988), she plays Tom Hanks' love interest. In Forrest Gump (1994), they play mother and son.
Has an older brother, Richard Dryden Field, a Physicist.
Made two different appearances as a contestant on "The Dating Game" (1965).
Is an alumna of the Lee Strasberg Institute as are Harvey Keitel, Frank Miranda, Robert De Niro and Al Pacino.
As of 2008, she is only one of six actors who have a 2-0 winning record when nominated for an acting Oscar. The others are Luise Rainer for The Great Ziegfeld (1936) and The Good Earth (1937); Vivien Leigh for Gone with the Wind (1939) and A Streetcar Named Desire (1951); Helen Hayes for The Sin of Madelon Claudet (1931) and Airport (1970); Kevin Spacey for The Usual Suspects (1995) and American Beauty (1999); and Hilary Swank for Boys Don't Cry (1999) and Million Dollar Baby (2004).
Mother-in-law of actress Sasha Craig.
In 1988, she survived the crash of her private airplane with no injuries. The plane lost power on take-off and skidded into some parked airplanes on the tarmac.
1966 Deb Star.
Both Sally and her mother, Margaret Field, have osteoporosis.
Personal Quotes
My agent said, "You aren't good enough for movies". I said, "You're fired".
When I was born, the doctor looked at my mother and said, "Congratulations, you have an actor!"
[upon accepting her 1985 Best Actress Oscar] "This means so much more to me this time, I don't know why. I think the first time I hardly felt it because it was all too new. But I want to say "Thank you" to you. I haven't had an orthodox career. And I've wanted more than anything to have your respect. The first time I didn't feel it. But this time I feel it. And I can't deny the fact that you like me . . . right now . . . you like me. Thank you.
My country is still so repressed. Our idea of what is sexual is blonde hair, long legs, 22 years old. It has nothing to do with humour, intelligence, warmth, everything to do with teeth and cleavage.
Norma Rae (1979) is inspirational because it's the type of film where one person can be heard.
Forrest Gump (1994) is filled full of moments where your heart just cheers.
[on Burt Reynolds] What I look for mostly in a man is humor, honesty and a mustache. Burt has all three.
[1985 quote on Goldie Hawn] Goldie does something that none of the other actresses can do. She has a whimsy and a comedic ability that no one else has. We can all imitate her, but we can't get near it. I don't think that Goldie has yet branched out as much as she would like to dramatically, because she's such big box office doing what she does.
[on James Garner] If men only knew what's appealing to a woman is how a man makes her feel about herself. Jim is funny and dear and he laughs at my jokes. That's what makes Jim sexy; it doesn't change with years.
[On the death of Bea Arthur]: She just was great and I wish I could have that kind of longevity of greatness.
[On playing Nora Walker]: The first thing older mothers say when they meet me is just how much they enjoy the show. The women my age who watch it love it because the show is about them. It's about being the mother of grown-ups. They don't really get to tune into anything else on TV, or see films they can relate to, so it's great to see their lives portrayed on Brothers & Sisters.
There are not a lot of places for an actor to explore what it's like to be a woman in her 60s. There aren't any films about it and there very few TV series about it.
[On trying her hand at golf]: I would go to all these locations and think ... why don't I play golf? People walk around and enjoy God, God's gifts, the trees, so I think I've always thought I should have that in my life.
Where Are They Now
(2006) Spokesperson for "Boniva", an Osteoporosis drug.
(2009) Appeared in an commercial for the "Wounded Warrior Project".

---
Bu forumun müsaadesi var:
Bu forumdaki mesajlara cevap
veremezsiniz