1
sayfadaki
1
sayfası •
Paylaş
•

Anna Pavlova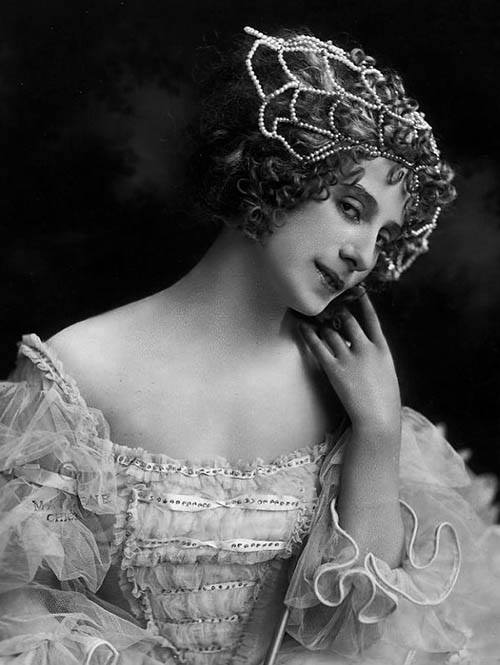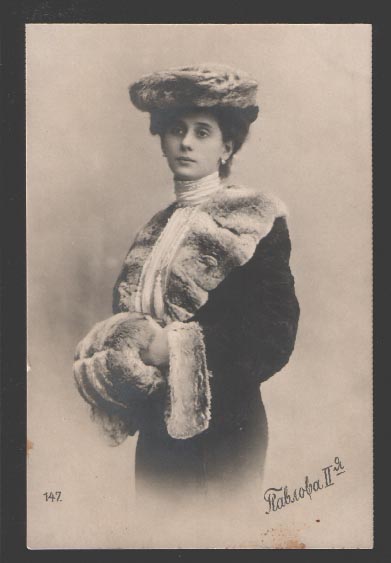 Anna Pavlova. Saint Petersburg, c. 1905
Anna Pavlovna (Matveïevna) Pavlova (Russian: А́нна Па́вловна (Матве́евна) Па́влова) (12 February 1881 [O.S. 31 January]–23 January 1931) was a Russian ballerina of the late 19th and the early 20th century.
She is widely regarded as one of the finest classical ballet dancers in history and was most noted as a Principal artist of the Imperial Russian Ballet and the Ballets Russes of Serge Diaghilev. Pavlova is most recognised for the creation of the rôle The Dying Swan and, with her own company, would become the first ballerina to tour ballet around the world.
Personal life and career
Pavlova was born premature on [O.S. 31 January] 1881, in Ligovo, a suburb (now neighbourhood) of Saint Petersburg, then the capital of the Russian Empire. Her mother was a laundress named Lyubov Pavlova. The identity of her father has been open to debate. She later claimed her father (who was of possible Jewish origin) had died when she was two years old. The newspaper The Saint Petersburg Gazette published an article in 1913 claiming that her father was a banker named Poliakov, and that her mother's second husband, Matvey Pavlov, had adopted her at the age of three, by which she acquired her last name.
Pavlova's passion for the art of ballet was realized when her mother took her to a performance of Marius Petipa's original production of The Sleeping Beauty at the Imperial Mariinsky Theatre. The lavish spectacle made an impression on the young Pavlova, and at the age of eight her mother took her to audition for the renowned Imperial Ballet School. She was not chosen due to her age and for what was considered to be a "sickly" appearance, but she was finally accepted at the age of ten in 1891. She appeared for the first time on stage in Marius Petipa's Un conte de fées (A Fairy Tale), which the ballet master staged for the students of the school.
The young Pavlova's years of training were difficult, as classical ballet did not come easily to her. Her severely arched feet, thin ankles, and long limbs clashed with the small and compact body in favor for the ballerina at the time. Her fellow students taunted her with such nicknames The Broom and La petite sauvage. Undeterred, Pavlova trained to improve her technique. She took extra lessons from the noted teachers of the day — Christian Johansson, Pavel Gerdt and Nikolai Legat. In 1898 she entered the classe de perfection of Ekaterina Vazem, former Prima ballerina of the Saint Petersburg Imperial Theatres.
During her final year at the Imperial Ballet School, she performed many roles with the principal company. She graduated in 1899 at age 18, being allowed to enter the Imperial Ballet a rank ahead of corps de ballet as a coryphée. She made her official début at the Mariinsky Theatre in Pavel Gerdt's Les Dryades prétendues (The False Dryads). Her performance garnered praise from the critics, particularly the great critic and historian Nikolai Bezobrazov.
Photographic postcard of Anna Pavlova as the Princess Aspicia in the Petipa/Pugni The Pharaoh's Daughter, Saint Petersburg, circa 1910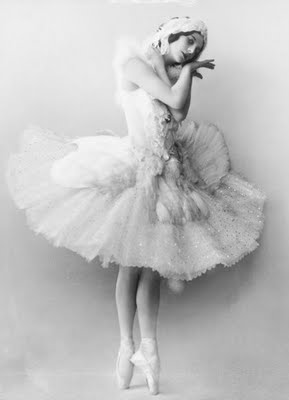 Anna Pavlova in the Fokine/Saint-Saëns The Dying Swan, Saint Petersburg, 1905
Аnna Pavlova costumed for the Pandéros in the Petipa/Glazunov Raymonda, Saint Petersburg, 1910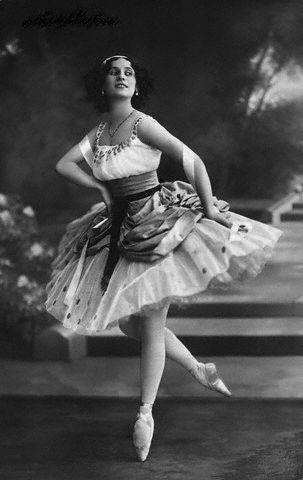 Anna Pavlova as Lise in the Pas de ruban from the Petipa/Ivanov/Hertel La Fille Mal Gardée. Saint Petersburg, 1912.
At the height of Petipa's strict academicism, the public was taken aback in their reaction to Pavlova's style, which was a combination of an amazing dance gift that paid little heed to academic rules; she frequently performed with bent knees, bad turnout, misplaced port de bras and incorrectly placed tours. Such a style in many ways harkened back to the time of the romantic ballet and the great ballerinas of old.
Pavlova performed in various classical variations, pas de deux and pas de trois in such ballets as La Camargo, Le Roi Candaule, Marcobomba and The Sleeping Beauty. Her enthusiasm often led her astray: once during a performance as the River Thames in Petipa's The Pharaoh's Daughter her energetic double pique turns led her to lose her balance, and she ended up falling in the prompter's box. Her weak ankles led to difficulty while performing as the fairy Candide in Petipa's The Sleeping Beauty, leading the ballerina to revise the fairy's jumps en pointe, much to the surprise of the Ballet Master. She tried desperately to imitate the renowned Prima ballerina of the day Pierina Legnani, Prima ballerina assoluta of the Imperial Theaters. Once during class she attempted Legnani's famous fouettés, causing her teacher Pavel Gerdt to fly into a rage. He told her to " ... leave acrobatics to others. It is positively more than I can bear to see the pressure such steps put on your delicate muscles and the severe arch of your foot. I beg you to never again try to imitate those who are physically stronger than you. You must realize that your daintiness and fragility are your greatest assets. You should always do the kind of dancing which brings out your own rare qualities instead of trying to win praise by mere acrobatic tricks."
Pavlova rose through the ranks quickly, as she became a favorite of the old maestro Petipa. It was from Petipa himself that Pavlova learned the title role in Paquita, Princess Aspicia in The Pharaoh's Daughter, Queen Nisia in Le Roi Candaule, and Giselle. She was named coryphée in 1902, première danseuse in 1905, and finally prima ballerina in 1906 after a resounding performance in Giselle. Petipa would revise many grand pas for the ballerina, as well as many supplemental variations. She was much celebrated by the fanatical balletomanes of Tsarist Saint Petersburg. Her legions of fans called themselves the Pavlovatzi.
When the prima ballerina assoluta of the Imperial Theatres Mathilde Kschessinska was with child in 1901, she coached Pavlova in the role of Nikya in La bayadère. Kschessinska, not wanting to be upstaged, was certain Pavlova would fail in the role, as she was considered technically inferior due to her small ankles and lithe legs. Instead audiences became enchanted with Pavlova and her frail, ethereal look, which fit the role perfectly, particularly in the scene The Kingdom of the Shades.
Her feet were extremely rigid, so she strengthened her pointe shoe by adding a piece of hard wood on the soles for support and curving the box of the shoe. At the time, many considered this "cheating", for a ballerina of the era was taught that she, not her shoes, must hold her weight en pointe. In Pavlova's case this was extremely difficult, as the shape of her feet required her to balance her weight on her little toes. Her solution became, over time, the precursor of the modern pointe shoe, as pointe work became less painful and easier for curved feet. According to Margot Fonteyn's biography, Pavlova did not like the way her invention looked in photographs, so she would remove it or have the photographs altered so that it appeared she was using a normal pointe shoe.
In the first years of the Ballets Russes Pavlova worked briefly for Sergei Diaghilev. Originally she was to dance the lead in Mikhail Fokine's The Firebird, but refused the part, as she could not come to terms with Igor Stravinsky's avant-garde score, and the role was given to Tamara Karsavina. All her life Pavlova preferred the melodious "musique dansante" of the old maestros such as Cesare Pugni and Ludwig Minkus, and cared little for anything else which strayed from the salon-style ballet music of the 19th century.
By the mid 1900s she founded her own company and performed throughout the world, with a repertory consisting primarily of abridgements of Petipa's works, and specially choreographed pieces for herself. The ballet writer Cyril Johnson described that "her bourrées were like a string of pearls".
Her most famous showpiece was The Dying Swan, choreographed for her by Michel Fokine in 1905, danced to Le Cygne from The Carnival of the Animals by Camille Saint-Saëns.
Victor Dandré, her manager and companion, may have been her husband (she deliberately clouded this issue) After leaving Russia, Pavlova moved to London, England, settling in Hampstead where she lived for the rest of her life. She was influential in the development of British ballet, most notably inspiring the career of Alicia Markova. Her former home, Ivy House is located on North End Road, Golders Green. It is now the London Jewish Cultural Centre but a blue plaque marks it as Pavlova's previous home and a site of significant historical interest.
Pavlova was introduced to audiences in the United States by Max Rabinoff during his time as managing director of the Boston Grand Opera Company from 1914 to 1917 and was featured there with her Russian Ballet Company during that period.
Pavlova is perhaps most renowned for creating the rôle of The Dying Swan, a solo choreographed for her by Michel Fokine. The ballet, created in 1905, is danced to Le Cygne from The Carnival of the Animals by Camille Saint-Saëns.
Death
While touring in The Hague, Netherlands, Pavlova was told that she had pneumonia and needed an operation. She was also told that she would never be able to dance again if she had this operation. She refused to have the operation saying "If I can't dance then I'd rather be dead." Three weeks later she died of pleurisy, one week short of her 50th birthday. She was holding her costume from The Dying Swan when she spoke her last words, "Play the last measure very softly." Her death came in the "Hotel Des Indes" in The Hague, which shows a plaque on the wall and a Cigar Lounge named the Anna Pavlova Library in her memory.
In accordance with old ballet tradition, on the day she was to have next performed, the show went on as scheduled, with a single spotlight circling an empty stage where she would have been. Memorial services were held in the Russian Orthodox Church in London. Anna Pavlova was cremated, and her ashes placed in a columbarium at Golders Green Crematorium, where her urn was subsequently adorned with her ballet shoes (which since then have been stolen).
Pavlova's ashes have been a source of much controversy, following attempts by Valentina Zhilenkova and Moscow mayor Yuri Luzkhov, to have them flown to Moscow for interment in the Novodevichy Cemetery. These attempts were based on claims that it was Pavlova's dying wish that her ashes be returned to Russia following the fall of Communism. These claims were later found to be false, as there is no evidence to suggest that this was her wish at all. The only documentary evidence that suggests that such a move would be possible is in the will of Pavlova's husband, who stipulated that if Russian authorities agreed to such a move and treated her remains with proper reverence, then the crematorium caretakers should agree to it. Despite this clause, the will does not contain a formal request or plans for a posthumous journey to Russia.
The most recent attempt to move Pavlova's remains to Russia came in 2001. Golders Green Crematorium had made arrangements for them to be flown to Russia for interment on 14 March 2001, in a ceremony to be attended by various Russian dignitaries. This plan was later abandoned after Russian authorities withdrew permission for the move. It was later revealed that neither Pavlova's family nor the Russian Government had sanctioned the move and that they had agreed the remains should stay in London.
Her former home in Hampstead, London (now a school) contains a memorial to her, created by the Scots sculptor George Henry Paulin.
En son Admin tarafından Salı Mart 18, 2014 6:33 pm tarihinde değiştirildi, toplamda 1 kere değiştirildi
Admin




Mesaj Sayısı

: 5192


Kayıt tarihi

: 27/01/08




---
Bu forumun müsaadesi var:
Bu forumdaki mesajlara cevap
veremezsiniz