1
sayfadaki
1
sayfası •
Paylaş
•

Teresa Reichlen was born in Clifton, Virginia. She began her dance training at the age of 10 at the Russell School of Ballet, then entered the School of American Ballet in 1999. In 2001, Ms. Reichlen joined New York City Ballet, where she was promoted to soloist in 2005. Since joining NYCB, she has performed featured roles in many ballets including George Balanchine's Agon, The Four Temperaments, A Midsummer Night's Dream, Rubies, Tschaikovsky Piano Concerto No. 2, and Western Symphony; Peter Martins' The Sleeping Beauty and Swan Lake; Jerome Robbins' Fanfare and The Goldberg Variations; and Christopher Wheeldon's After the Rain.
Advantage
Andrea Mohin/The New York Times"A lot of amazing roles are created for tall girls," Teresa Reichlen said, "that short people don't have an opportunity to do."
By GIA KOURLAS
Published: January 3, 2008
Teresa Reichlen is a rarity at New York City Ballet, though for more than her angelic face, long legs and soaring jump, which manages to spring up and float in the air like silk. What's unusual about Ms. Reichlen is that in the arduous quest to become a ballerina at a competitive and grueling company like City Ballet, her delicacy hasn't turned into brittleness.
Ms. Reichlen performing in Balanchine's "Jewels."
Since being named a soloist in 2005 she has preserved her poise and attained a new rigor in her technique. "It took me a long time to realize that you can try too hard onstage," she said after a company class one day last month at the New York State Theater. "Sometimes you just have to settle down. I would always have good shows when I was really tired, and I think it's because I just did what I had to do."
She smiled. "Experience is a big thing," she said, "and I guess I'm starting to finally have some of that after seven years."
Her height makes her regal authority all the more apparent. Ms. Reichlen can't hide. She is tall: 5 foot 9 before rising on point. While such stature does leave her out of the running for certain roles, it can also be an advantage. To enhance her dancing with a touch of rubato — a kind of teasing or playing with the music — she uses her elegant limbs to slow down moments or stretch them out like taffy.
Unlike other classical companies, City Ballet traditionally has a fair share of parts for tall women. (Suzanne Farrell, after all, originated many of them.) Since joining the company Ms. Reichlen has performed Balanchine roles in the repertory that are generally reserved for taller dancers or don't require partnering: memorably the statuesque sexpot in the "Rubies" section of "Jewels," which she will perform Friday and Saturday nights; Dewdrop in "The Nutcracker"; the second female lead in "Tchaikovsky Piano Concerto No. 2"; and the leader of the Wrens in "Union Jack."
But she is also easing into pas de deux roles. When the company was in residence at the Saratoga Performing Arts Center last summer, she performed "Stars and Stripes," opposite both Stephen Hanna and Charles Askegard, and last month she again danced the Sugarplum Fairy in "The Nutcracker."
"She's so tall, but it's not hard to dance with her because she's so light and right on top of her leg," Mr. Hanna said. "She doesn't lean to the right or to the left. She's very willowy, but the thing that's great about it is that she has this powerful jump that comes out of nowhere."
Ms. Reichlen is often cast second or third in roles, often behind another tall dancer, Maria Kowroski, but she doesn't consider her height a detriment as long as taller partners are available.
"I like to think that short girls have it easier because they have less to move, but I think sometimes I'm just making excuses for myself when things feel too fast," she said. "I like being tall. It helps to be longer to have better lines. It's easier to cover space. And a lot of amazing roles are created for tall girls that short people don't have an opportunity to do, like 'Rubies.'"
Ms. Reichlen, 23, is equally poised offstage. She's not prone to making flighty pronouncements about ballet; she's not a gusher. At Barnard College, where, she estimates, she has almost finished her sophomore year as a part-time student, her probable major is biology. "If I can ever fit those courses into my schedule," she noted with a sigh.
She began dancing at 3 in her hometown, Clifton, Va., "at a little studio behind a grocery store." Later, while studying at the Russell School of Ballet in Chantilly, Va., she learned of the City Ballet-affiliated School of American Ballet.
"It was infamous because a few girls had tried out for it, but no one had ever gotten in from my school," she said. "So I was scared to even try."
She was accepted after her first audition but put it off for a year, eventually moving to New York at 15 to study at the school. It was then that her growth spurt began. "I probably didn't stop growing until I was 17," she said. "But I was going through so many changes as it was, trying to adapt to the technique, that I didn't even notice it." In October 2000, she was chosen to join City Ballet as an apprentice. A year later she became a member of the corps de ballet.
Her success at City Ballet has surprised her. Originally she assumed that she would end up at Pacific Northwest Ballet, a company in Seattle that she said is more disposed to hire taller dancers. But ever since she was promoted to soloist, Ms. Reichlen has spent less time worrying about her height than about her performance quality. During the last couple of years she has focused on her projection.
Merrill Ashley, a former City Ballet star revered for her impeccable technique, has lately been working with Ms. Reichlen on her upper body and in building her confidence.
"I think there is a certain reserve there," Ms. Ashley said. "But as each season goes by, I see her coming out of herself a little bit more. To some extent you just have to get out there and perform. I think she's aware of the need to add her own personality without being false. It's not easy for her."
Ms. Ashley would like to see Ms. Reichlen tackle the coolly mysterious part in Balanchine's "Emeralds" first danced by Mimi Paul. "It would take advantage of her long lines yet give her a chance to work on other aspects of her dancing, because the role is less about technique and more about presence," Ms. Ashley said. "Dancers need parts that are other than what's obvious. You want them to push a little beyond."
Beginning last summer Ms. Reichlen did just that while performing with Christopher Wheeldon's company, Morphoses. During the group's City Center engagement in October it was apparent that she had blossomed, surpassing or at the very least proving herself to be an equal of fellow City Ballet dancers like Ms. Kowroski and Wendy Whelan. Even though Mr. Wheeldon is City Ballet's resident choreographer, their paths had rarely crossed before he asked her to dance with Morphoses.
"I got a lot from that experience," she said. "I had never really worked with Chris. He is very passionate about his ballets and getting the best out of his dancers, so he was pushing me a lot — I haven't been pushed that hard in a while — which was great. He was very good at pointing out why Wendy is amazing, telling me, 'You should watch this about her.'"
Mr. Wheeldon also told Ms. Reichlen that she needed to have a point of view when she danced. "Honestly, that was a very hard correction for me to take," she said. "It's not something you can just fix. Some dancers appear to have a whole story behind a ballet — it's just the way they dance — and I'm not like that."
For all the unruffled poise she seems to radiate onstage she doesn't always experience it herself. "It's funny because people tell me I look calm," she said. "But I don't always feel calm. When I'm the most stressed or angry I become really quiet. Maybe it's my way of dealing. I don't know if I hold it all in, but it's just the way I am — in life and on the stage."
Admin




Mesaj Sayısı

: 5192


Kayıt tarihi

: 27/01/08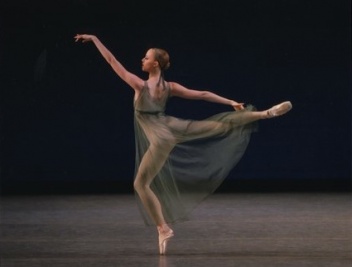 Teresa Reichlen and Justin Peck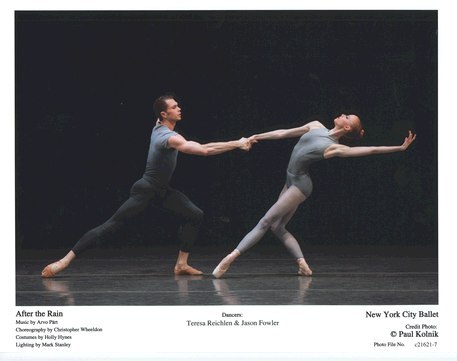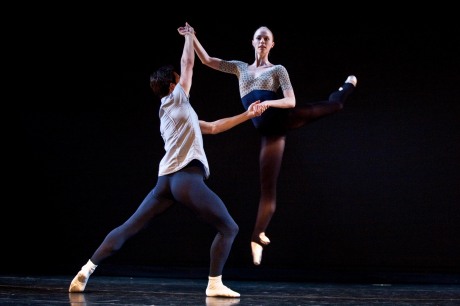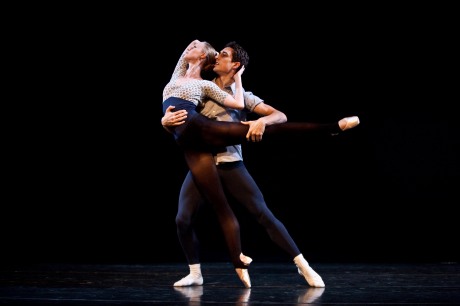 Teresa Reichlen has a long, lyrical body that she uses with expressive delicacy and fluidity, particularly in her upper torso. She looked the part of the Sugarplum Fairy, which she performed for the first time in her career on Saturday afternoon at the New York State Theater in the New York City Ballet production of George Balanchine's "Nutcracker." And her dancing was expansive and gracious, in an afternoon that featured not one but three impressive debuts in leading roles.
Paul Kolnik/New York Ballet
Enchantment aloft: Teresa Reichlen as the Sugarplum Fairy in New York City Ballet's performance of George Balanchine's "Nutcracker."
Ms. Reichlen and the lanky Ask la Cour, new as her Cavalier, are a physically beautiful match. They were also well matched in their complementary partnering, with Mr. la Cour the most gently empathic and anticipatory of squires and Ms. Reichlen glowingly independent. Mr. la Cour has looked gangling and charmingly awkward at times. In this "Nutcracker," he was the essence of classical nobility, and the two moved with the same billowing appropriation of space.
Tyler Peck, a new and chic Dewdrop, shot through the technically demanding choreography with the right kind of death-defying speed and heedlessness. She made an intriguing entry, almost drowsily, but then took off in dancing whose musical phrasing never called attention to itself. There were feverishly eccentric moments, but this is the role in which to get away with them.
In another role debut, Giovanni Villalobos had a soft-edged attack that worked in a well-danced portrayal of the snappy first-act toy soldier. Robert La Fosse's Herr Drosselmeier has deepened from a shuffling old uncle to something grander, though perfectly in scale, with subtle undertones of a tender figure of death. And Balanchine's storytelling and stage magic worked their sweet way once again, drawing a small girl in the audience so entirely into the first-act fray that she reprovingly called out, "Go home!" to the battling mice.
Maurice Kaplow conducted the Tchaikovsky score in a sumptuous orchestral performance that featured Arturo Delmoni as violin soloist.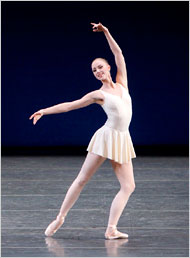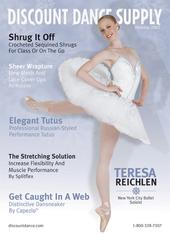 Admin




Mesaj Sayısı

: 5192


Kayıt tarihi

: 27/01/08




---
Bu forumun müsaadesi var:
Bu forumdaki mesajlara cevap
veremezsiniz