1
sayfadaki
1
sayfası •
Paylaş
•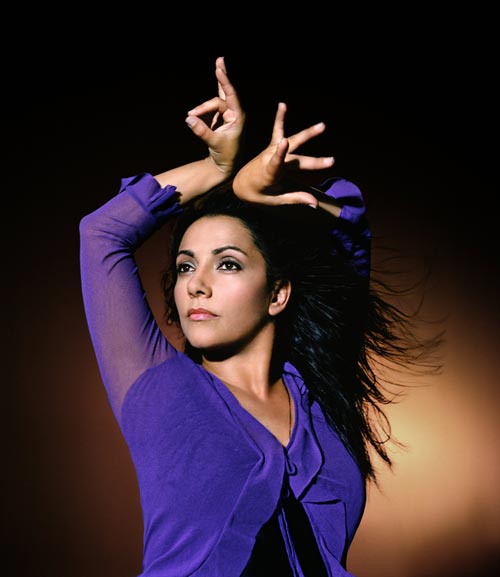 Eva La Yerbabuena
Female flamenco dancer
Choreographer
Name:Eva María Garrido García
Birth: 1970 Frankfurt, Alemania
Eva Yerbabuena (born Eva María Garrido) was born in Frankfurt, Germany in 1970, but fifteen days after her birth went back to live in her parents hometown in Granada, Spain. At age 12 she began her dance career by taking flamenco classes. Later she went on to study dramatic arts with Juan Furest and Jesús Domínguez. Afterwards she travelled to Cuba to learn choreography from Johannes García. She was given the name "Yerbabuena" by a friend, Francisco Manuel Díaz, after a flamenco singer named Fransquito Yerbabuena.
Considered to be a prominent Flamenco dancer of our time, many prestigious awards have honored her work, including Premio Nacional de Danza in 2001 (National Dance Award in Spain.) Among dancers, Eva Yerbabuena has collaborated with Manolete, Merche Esmeralda, Javier Latorre, Joaquín Cortés, Mikhail Baryshnikov and Pina Bausch.
Eva Yerbabuena Ballet Flamenco was established in 1998 including guitarist and husband Paco Jarana as musical director. Currently Eva Yerbabuena has produced five shows with her company and tours internationally.
Films
In 1997 she collaborated with Sara Baras and other Flamenco dancers along with singers: Elena Andujar, Montse Cortes and Guadiana in Mike Figgis' documentary, Flamenco Women. In Flamenco Women, Figgis captures the process in creating a show as the dancers and musicians have six days to prepare and rehearse. Again, in 2001 she featured in Mike Figgis' film, Hotel, as a Flamenco dancer. Eva Yerbabuena participated in Pulse: A Stomp Odyssey (2002) performing a Petenera with Flamenco guitarist Paco Jarana.
"I have always said that in flamenco, everything has already been discovered. The greatest possible innovation is to be oneself, to make it as personal as possible".
She is a young bailaora with a firm artistic trajectory and thorough training, which includes studies in dramatic arts. She learned to dance in Granada with Mariquilla, Angustias and Enrique el Canastero, and perfected her dancing with Mario Maya, Javier Latorre and Antonio Canales. She started to dance professionally when she was only fifteen years old in the company of Rafael Aguilar before moving on to Paco Moyano's company (1987). She has danced or worked with other great bailaores like Javier Barón, Merche Esmeralda, Manolete, Joaquín Cortés, Rafael Cortés and El Güito; she has even shared the stage with great figures of contemporary and classical dancing, like Barishnikov.
La Yerbabuena set up her own dance company in 1988, which was made up of young, extremely talented bailaores. Her stage shows, which she performed and choreographed herself while her husband, the guitarist Paco Jarana, wrote the music for them, have been acclaimed worldwide: in the Theatre de la Ville in Paris, the Opera in Wupperthal (Germany), the Tampere Flamenco Festival, the Mont de Marsan Festival (France), the Universal Exposition in Hannover (Germany), the Palacio de Bellas Artes in Mexico... In spite of her young age, Eva la Yerbabuena has already won important prizes: the Premio Nacional de Danza 2001 in the performance category, an award that other greats like Cristina Hoyos and Antonio Canales have been awarded, or the Premio 'La Mejorana' (1992) in the Concurso Nacional de Arte Flamenco (National Flamenco Art Competition) in Córdoba, an award that she rejected because she felt that the awarding of other prizes in the same edition had been unfair.
Among her other works, Eva La Yerbabuena has realised choreographies on order, like the one she made in 1998 for the Ballet Nacional de España, entitled Mi niña Manuela; in 2001, she gave lessons in the University of Alburquerque (New Mexico. United States). She has also worked in cinema, and took part in the films Flamenco Women (1997) and Hotel (2001), both of which were directed by Mike Figgis. In the latter, which focuses exclusively on flamenco dancing, La Yerbabuena's artistry stands out especially.

Scene from a docu.directed by Mike Figgis(1997)starring Eva la yerbabuena,Sara Baras and others at "amor de dios"this show was put together in six days.





---
Bu forumun müsaadesi var:
Bu forumdaki mesajlara cevap
veremezsiniz