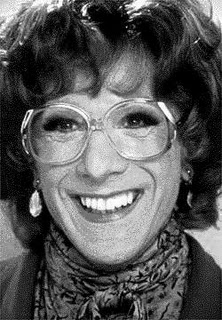 Directed by Sydney Pollack
Produced by Sydney Pollack
Dick Richards
Screenplay by Murray Schisgal
Barry Levinson
Elaine May
Story by Larry Gelbart
Starring Dustin Hoffman
Jessica Lange
Teri Garr
Dabney Coleman
Charles Durning
Music by Dave Grusin
Cinematography Owen Roizman
Editing by Fredric Steinkamp
William Steinkamp
Studio Mirage
Distributed by Columbia Pictures
Release date(s) December 17, 1982 (1982-12-17)
Running time 116 minutes
Country United States
Language English
Budget $21 million
Gross revenue $177,200,000
Tootsie is a 1982 American comedy film that tells the story of a talented but volatile actor whose reputation for being difficult forces him to go to extreme lengths to land a job. The movie stars Dustin Hoffman and Jessica Lange, with a supporting cast that includes Teri Garr, Dabney Coleman, Charles Durning, Bill Murray, and producer/director Sydney Pollack. Tootsie was adapted by Larry Gelbart, Barry Levinson (uncredited), Elaine May (uncredited) and Murray Schisgal from the story by Gelbart.
In 1998 the United States Library of Congress deemed the film "culturally significant" and selected it for preservation in the National Film Registry. The theme song to the film, "It Might Be You" sung by singer-songwriter Stephen Bishop, and composed by Dave Grusin / Marilyn and Alan Bergman was a Top 40 hit in the U.S., and also hit #1 on the U.S. adult contemporary chart and won a cinematic Oscar in 1983.
Plot
Michael Dorsey (Dustin Hoffman) is a respected but perfectionist actor on the verge of turning forty. Nobody in New York wants to hire him anymore because he is so difficult to work with. According to his long-suffering agent George Fields (Sydney Pollack), his attention to detail and difficult reputation got him fired from playing a tomato in a television commercial, because the idea of a tomato sitting down was "illogical" to him. After four months without a job, he hears of an opening on the soap opera Southwest General from his friend Sandy Lester (Teri Garr), who tries out for a role but doesn't get it. In desperation, he cross-dresses, auditions as "Dorothy Michaels" and wins the part.
Michael thinks it is just a temporary job to pay the bills, but he proves to be so popular as a feisty hospital administrator that, to his dismay, the producers sign him to a long-term contract. Dorothy is such a hit that she is even featured on the covers of a number of magazines with such celebrities as Andy Warhol.
When Sandy catches Michael in her bedroom half undressed to try on her clothes in order to get more ideas for Dorothy's outfits, he covers up by professing desire and they sleep together despite his better judgment about her self-esteem issues. Michael believes Sandy is too emotionally fragile to handle the truth about him winning the part of Dorothy. Their romantic relationship combined with his deception complicates his now busy schedule.
Exacerbating matters further, he is strongly attracted to one of his co-stars, Julie Nichols (Jessica Lange), a single mother in an unhealthy relationship with the show's amoral, sexist director, Ron Carlisle (Dabney Coleman). At a party, when Michael (as himself) approaches Julie with a line that she had previously told Dorothy she would be receptive to, she instead throws a drink in his face. Yet when he makes tentative advances (as Dorothy), Julie is shocked and later tells "her" that she likes her, but not in a romantic way.
Meanwhile, Dorothy has her own admirers to contend with: older cast member John Van Horn (George Gaynes) and Julie's widowed father Les (Charles Durning). Les even proposes marriage. Michael's roommate, writer Jeff Slater (Bill Murray), and George Fields are in on the masquerade and watch in amazement as the situation escalates out of control.
Michael finds a clever way to extricate himself. When the cast is forced to perform the show live, he improvises and reveals that he is actually the character's twin brother who took her place to avenge her. The revelation allows everybody a more-or-less graceful way out. Julie is so outraged she slugs him in the stomach off-camera.
Some weeks later, Michael waits for Julie outside the studio and touchingly confesses that "I was a better man with you as a woman than I ever was with a woman as a man," and she forgives him.
International Copies
A few scenes from this film have been copied in Kamal Hassan's movie Avvai Shanmughi without permission. Avvai Shanmughi also has a few scenes copied from Mrs. Doubtfire.
Cast
Dustin Hoffman as Michael Dorsey / Dorothy Michaels
Jessica Lange as Julie Nichols
Teri Garr as Sandy Lester
Dabney Coleman as Ron Carlisle
Charles Durning as Leslie "Les" Nichols
Bill Murray as Jeff Slater
Sydney Pollack as George Fields
George Gaynes as John Van Horn
Geena Davis as April Page
Doris Belack as Rita Marshall
Lynne Thigpen as Jo
Estelle Getty as Middle Aged Woman
Academy Awards
Win
Best Supporting Actress - Jessica Lange
Nominations
Best Picture - Sydney Pollack, Dick Richards
Best Director - Sydney Pollack
Best Actor - Dustin Hoffman
Best Supporting Actress - Teri Garr
Best Original Screenplay - Larry Gelbart, Murray Schisgal, Don McGuire
Best Original Song ("It Might Be You") - Dave Grusin, Alan Bergman, Marilyn Bergman
Best Sound - Arthur Piantadosi, Les Fresholtz, Rick Alexander (as Dick Alexander), Les Lazarowitz
Best Cinematography - Owen Roizman
Best Editing - Fredric Steinkamp, William Steinkamp
[edit] Production
The idea of having director Sydney Pollack playing Hoffman's agent, George Fields, was Hoffman's. Pollack initially resisted the idea, but Hoffman eventually convinced him to take the role.
To prepare for his role, Hoffman watched the film La Cage aux Folles several times.
Scenes set in the New York City Russian Tea Room were filmed in the actual restaurant.
Admin




Mesaj Sayısı

: 5192


Kayıt tarihi

: 27/01/08




---
Bu forumun müsaadesi var:
Bu forumdaki mesajlara cevap
veremezsiniz