IM KWON -TAEK
This is a Korean name; the family name is "Im".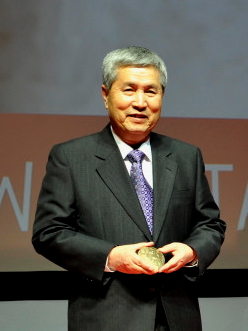 Im Kwon-taek at the 10th Deauville Asian Film Festival at the Centre international de Deauville, 2008.
Korean Name
Hangul: 임권택
Hanja: 林權澤
Revised Romanization: Im Gwontaek
McCune–Reischauer: Im Kwǒnt'aek
Im Kwon-taek (born May 2, 1936) is one of South Korea's most renowned film directors. In an active and prolific career, his films have won many domestic and international film festival awards as well as considerable box-office success, and helped bring international attention to the Korean film industry.
Early Life
Im Kwon-taek was born in Jangseong, Jeollanam-do and grew up in Gwangju. After the Korean War, he moved to Busan in search of work. He then moved to Seoul in 1956, where director of Five Fingers of Death (1972), Jeong Chang-hwa offered him room and board for work as a production assistant. Jeong recommended him for directing in 1961.
Career
Im's directorial premiere was with the 1962 film, Farewell to the Duman River (Dumanganga jal itgeola).
Before 1980 he was known primarily as a commercial filmmaker who could efficiently direct as many as eight genre pictures a year, helping to fulfill the quota for domestic pictures set by the government. His desire to make more artistically satisfying films began to show itself with his 1978 film Jokbo (Genealogy or The Family Tree), but the turning point of his career came with the 1981 film Mandala. From this point his films have been regarded as art-house cinema, and have been regularly shown at international film festivals, and have won numerous awards.
Im has continued to explore themes from Korea's past while also focusing on the Korean cultural identity in modern times. Among Im's most notable recent films are Sopyonje (1993) and Chunhyang (2000), both of which concentrate on the traditional Korean musical art of pansori. The latter film was also based on a traditional Korean legend. Apart from being a critical success, Sopyonje was also a success at the box office, becoming the first domestic film to draw over a million viewers in Seoul alone. Chihwaseon (2002) was also a critical success, earning him Korea's first Best Director award at the Cannes Film Festival.[Im Kwon-taek was awarded an honorary Golden Bear award at the Berlin Film Festival in 2005.
Im Kwon-taek's status, brought on by the critical success of his films, overlapped with a period of the film movement called "New Korean Cinema" or "Korean New Wave". Along with other directors, such as Park Gwang-su and Jang Sun-woo, Im is recognized as one of the founding figures of the movement, which gained international critical recognition and acclaim for Korean Cinema.
In April 2007, Im released his 100th film Beyond the Years, an informal sequel to Sopyonje. In November 2007 the French government announced that it would make Im a knight of the French Legion of Honor.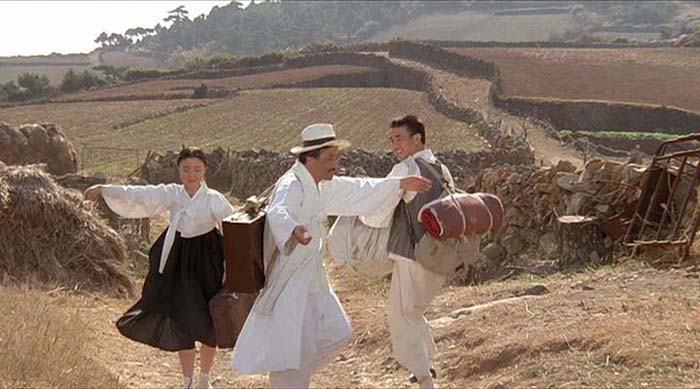 This is the trailer for Im Kwon Taek's 1993 Korean film, Sopyonje
Admin




Mesaj Sayısı

: 5192


Kayıt tarihi

: 27/01/08




---
Bu forumun müsaadesi var:
Bu forumdaki mesajlara cevap
veremezsiniz